[Gukje News 22.12.19.] 'Jagalchi Market Modernization Building' 5G Digital Twin 'Integrated Safety Monitoring Platform' Establishment
In May of this year, it was selected as a contest project by the Ministry of Science and ICT, and the construction work was completed in 8 months with an investment of 2 billion won, including 1.6 billion won from the government.
Establish an integrated safety monitoring platform to discover and improve response vulnerabilities in the event of various disasters for facilities with high floating population.
Source : Gukje News(http://www.gukjenews.com)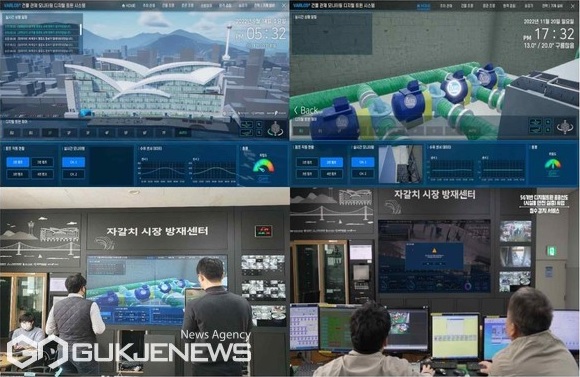 5G digital twin integrated safety monitoring platform/provision = Busan Infrastructure Corporation
(Busan = Gukje News) Reporter Kim Ok-bin = Busan Infrastructure Corporation(hereinafter referred to as 'corporation') was selected as a contest project by the Ministry of Science and ICT in May and recently completed the construction of an integrated safety monitoring platform based on the '5G communication digital twin' for the modernized building in Jagalchi Market, which has been promoted so far. It was announced on the 19th that the upgrade to the management facility was completed.

(Skip)

Key contents ▲ The 5G-based seawater water quality and air quality measurement and analysis service collects real-time seawater and air pollution levels flowing into Jagalchi Market with an Internet of Things (IoT) terminal, analyzes big data, and automatically manages and controls water intake and air conditioning systems. ▲ In case of fire, it provides an optimal escape route using artificial intelligence algorithms, ▲ provides international standard 3D modeling data as a cloud server-based convergence service, and is built to provide integrated control services regardless of location.

The corporation is said to have caught two rabbits at the same time, such as leading innovative growth led by the private sector through leading demand creation by public institutions for these new technologies, and advancing safety management in Jagalchi Market.

Meanwhile, the corporation formed a consortium with Busan city, Busan Information Industry Promotion Agency, Samwoo Immersion Co., Ltd., Neotech Co., Ltd., and Kigon Co., Ltd., and was selected for a public project by the Ministry of Science and ICT in May. 2 billion won was invested to build new digital twin technologies such as 5th generation (5G) communication, artificial intelligence (AI), real-time information import (IoT sensor), and virtual space implementation (3D modeling) in Jagalchi Market's modernized building. come.
Reporter Kim Ok-bin obkim5153@naver.com

Source : Gukje News(http://www.gukjenews.com)