[Cad&Graphics 23.03.03.] [Case Study] Establishment of Safety Management Digital Twin Platform in Jagalchi Market with Unreal Engine
Source: March 2023 issue of CAD & Graphics (http://www.cadgraphics.co.kr)
Jagalchi Market, as the largest fish market in Korea representing Busan, needed a new disaster response simulation and safety management platform to prevent various accidents for market merchants, citizens and tourists, and to dramatically improve the operating environment of facilities inside and outside the market.
Accordingly, the Busan Information Industry Promotion Agency applied the 'VARLOS building control monitoring digital twin system', a real-time safety management platform based on Unreal Engine, to the Jagalchi market through collaboration with Samwoo Immersion, a company specializing in XR (extended reality) solutions.
In this issue, we would like to introduce the main contents of the digital twin system development pipeline using Unreal Engine, focusing on the development process of this project. ■ Data provided by: Epic Games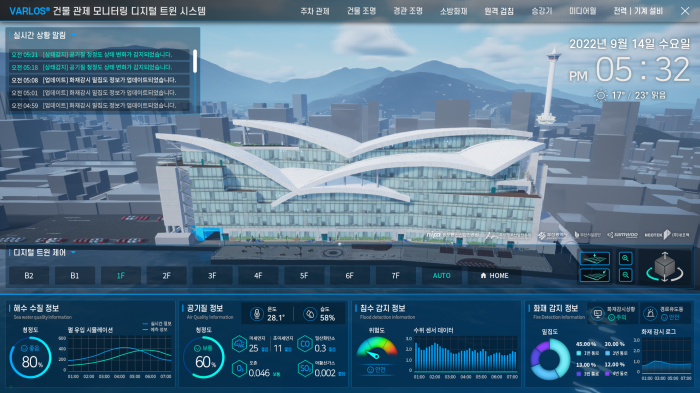 ▲ VARLOS building control monitoring digital twin system
Samwoo Immersion, which developed the Jagalchi Market safety management platform, is developing and supplying XR technology-based solutions for industrial job training and various education fields. In addition to the Jagalchi market, it provides digital twin-based safety management system solutions for large facilities in various fields such as ports, terminals, and shipyards.
The core of the digital twin, Unreal Engine
The Jagalchi Market real-time safety management platform is applied with Samwoo Immersion's Unreal engine-based VARLOS building control monitoring digital twin system. Service ▲ A total of four core functions, including fire detection and escape route guidance services, were selected and applied, and verified as a service model through demonstration.
Digital twin technology was key for four key functions that required monitoring, simulation and remote control. In order to implement this, it was more important than anything else to visualize the massive data of the actual physical environment in realistic 3D in real time, so Unreal Engine, a real-time 3D production tool, was adopted.
Unreal Engine provides realistic rendering in real time through PBR (Physically Based Rendering) materials, post-processing and lighting effects, and HLOD (Hierarchical Level of Detail). In addition, recently added Lumen technology, a fully dynamic global illumination technology, and Ninite technology, a virtualized micropolygon geometry system, enable more realistic visualization of enormous amounts of detail, playing a key role in building digital twins.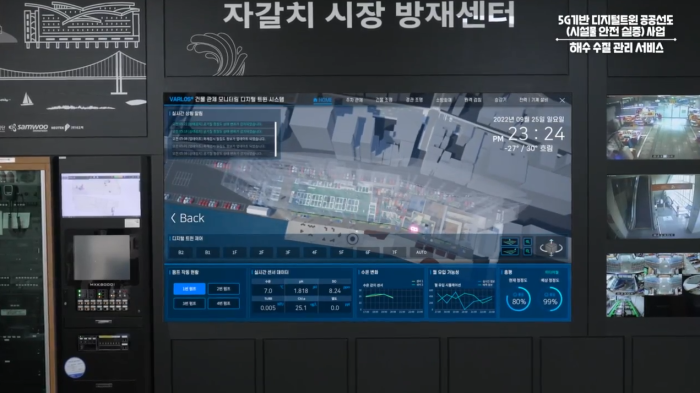 ▲ Jagalchi Market safety management monitoring system construction screen
Creating city shapes with CityGML standard data
In order to monitor external sensors such as air quality and water quality in Jagalchi Market, it is very important that the size and shape of not only the Jagalchi Market building but also the surrounding buildings are similar to the real ones. To this end, Samwoo Immersion introduced CityGML (City Geographic Markup Language) technology to make the size and skyline of surrounding buildings realistic.
The digital twin for control monitoring enhanced the intuitiveness of the building by producing information on the surrounding shape as well as the control building similarly to the real one. In addition, the shape of the feature was implemented to satisfy the demand for scalability related to fire safety in the future.
In addition, Samwoo Immersion used a land-based geospatial vector data file (shapefile) built by integrating building spatial information and building ledger property information of the building administration system on a building-by-building basis, and the geometry, topology, and meaning A 3D shape that fits properties such as semantics and appearance is expressed. In other words, shapefile data such as the area shape of the actual building, the height of the building, and the latitude and longitude coordinates of the building and road were automatically created as a 3D shape according to the purpose of the building.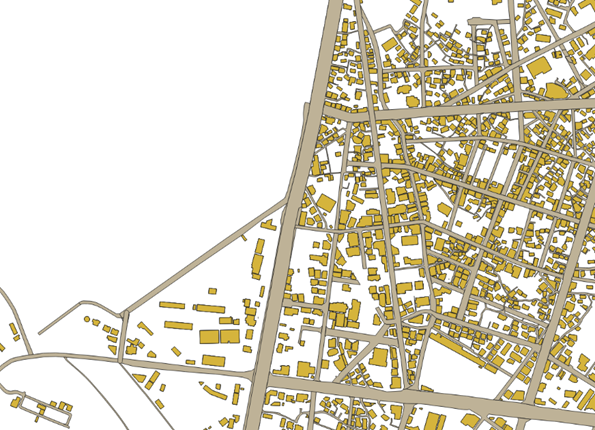 ▲ Edit geospatial vector data files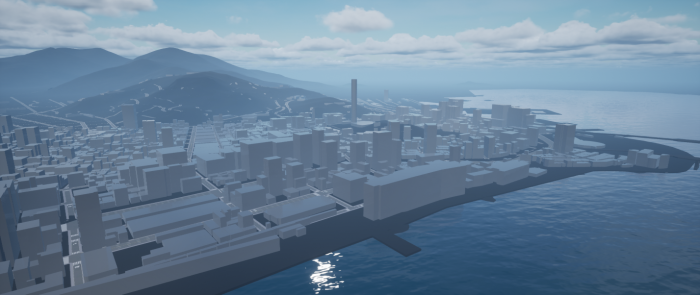 ▲ 3D visualization of geospatial vector data
Produce realistic terrain up to the elevation of the surrounding terrain
The Jagalchi Market's safety management platform was created to closely resemble the actual terrain as well as the shape of the city for realistic monitoring. In the process of converting DEM (Digital Elevation Model) data into a 3D shape, it is important to measure the coordinate system value of the data and the highest and lowest heights of the normalized altitude data as the actual elevation span.
Samwoo Immersion improved the accuracy by using the technology to 3-dimensionally modify the shp data to align the CityGML data accurately on the terrain shape and the function to automatically check the height of the terrain and place it in the appropriate location for the CityGML data of the building unit.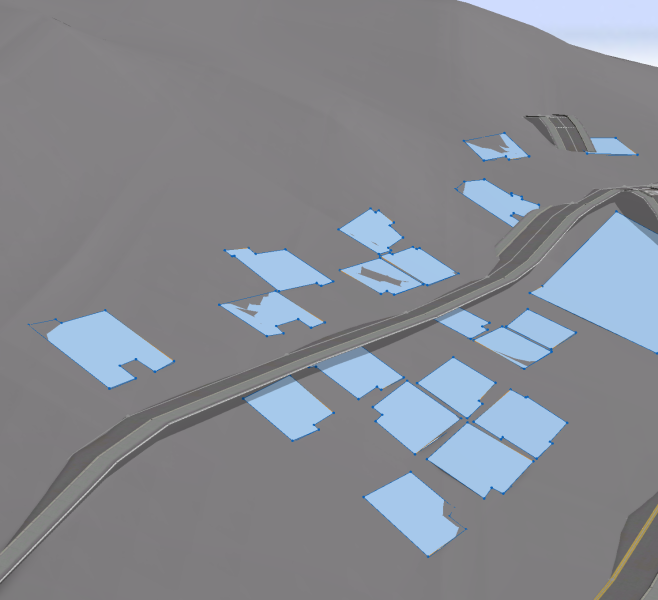 ▲ Align CityGML data to terrain data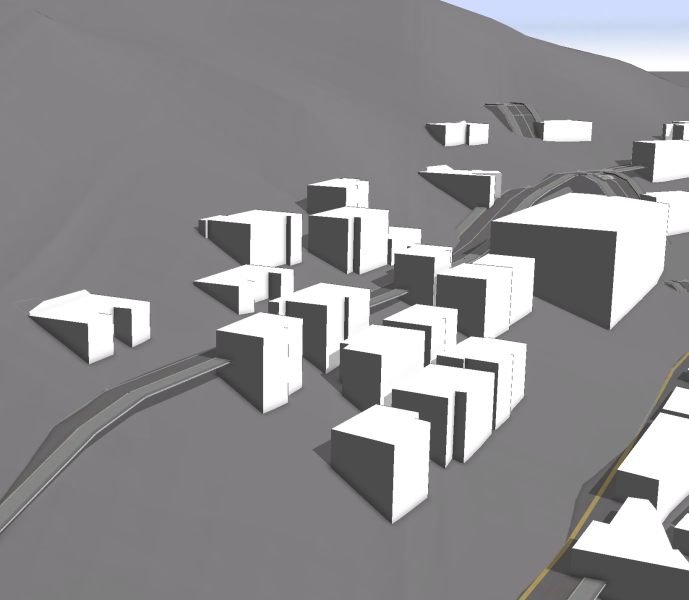 ▲ Align CityGML data to terrain data
Implementation of precision modeling using 3D scanning data
Another major technology used to successfully implement the digital twin monitoring system is the realization of the realistic shape of surrounding buildings using geospatial vector data and the use of elevation data (DEM) to realistically describe the interior of the building. There are precise modeling techniques.
Inside Jagalchi Market, it was necessary to monitor the pump facility that draws seawater, and since it is a facility visited by many tourists, safety monitoring and technical verification and implementation of disaster response plans were also important. In line with these demands, Samwoo Immersion carried out digital twin work to create the shape and equipment of Jagalchi Market buildings in a virtual environment to simulate facilities such as air conditioning, firefighting, drainage, and plumbing.
When implementing the digital twin, it is also necessary to implement equipment and items that are not specified on the design drawing of the target facility in real life, but there are limitations to the method of individually measuring and recording the shape and location information of all objects at this stage. To overcome these limitations, Samwoo Immersion was able to quickly and accurately implement the polygon-optimized digital twin required by the target device by retopologizing the point cloud data obtained through 3D scanning.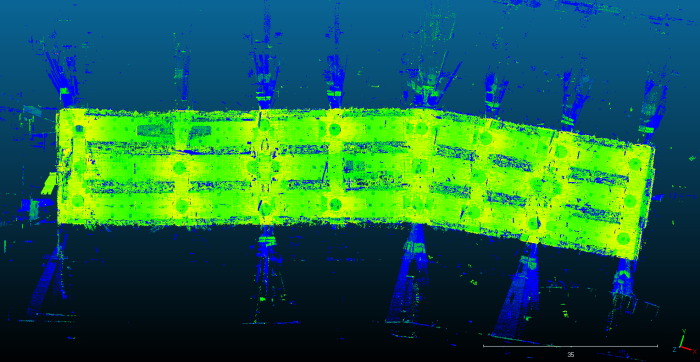 ▲ 3D shape production using 3D scanning data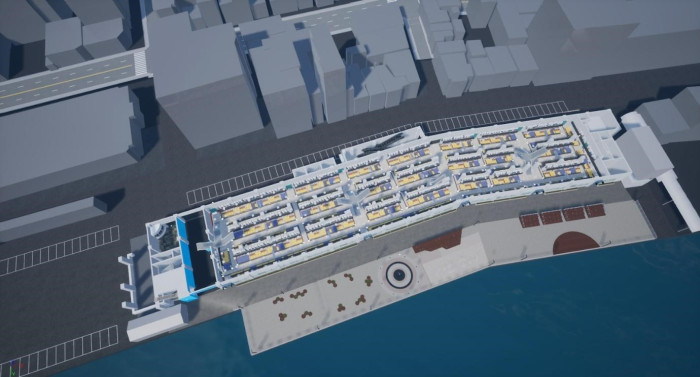 ▲ 3D shape production using 3D scanning data
Data integration through Unreal Engine's extensibility
In order to implement the Jagalchi Market digital twin monitoring system, oneM2M's IoT (Internet of Things) service platform guidelines for data integration between standardized devices must be applied. Control technology was applied.
In this process, Unreal Engine's plug-in expansion function played a large role in providing expansion solutions such as communication, monitoring, and control. Unreal Engine provides many basic features, as well as plug-in extensions that allow you to easily extend the functionality. Various plug-ins that support protocols or interfaces such as MQTT and KAFKA, which are mainly used for monitoring and controlling IoT devices, in addition to communication techniques commonly used in game development, such as server-client communication and interworking with cloud services, have been developed by developers around the world.
Samwoo Immersion was able to collect and visualize data using oneM2M-based cloud server and MQTT protocol thanks to the scalability of Unreal Engine. The newly introduced IoT equipment was directly connected to the oneM2M server through the 5G communication network, but in the case of legacy equipment in operation, communication standards and protocols were fragmented, so an edge server supporting multiple protocols was created to store equipment data. Collected. Afterwards, based on static data called at the time of protocol initialization and dynamic data received in real time, it was created in a way that was visualized through Unreal Engine.

▲ System configuration for data visualization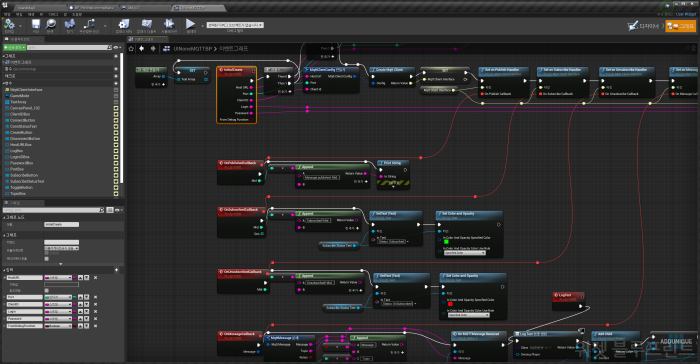 ▲ Development through blueprint script
Samwoo Immersion's Next Goal and Unreal Engine Utilization Plan
Samwoo Immersion was able to showcase a highly immersive experience by actively utilizing Unreal Engine for this Jagalchi market virtualization solution that applied 5G-based digital twin. The digital twin-based terrain visualization techniques accumulated so far, including the know-how of applying Unreal Engine, will be used to build various XR integrated solution environments in the future, and plans to provide digital twin monitoring solutions in various industries.
In the future, Samwoo Immersion will advance several digital twin systems developed so far, such as the VARLOS building control and monitoring digital twin system, the VARLOS terminal monitoring digital twin system, and the VARLOS smart construction technology maritime safety monitoring digital twin system. It plans to expand the market by establishing a new digital twin system for high-level industrial sites and providing related services.
Sujin Jeong sjeong@cadgraphics.co.kr
Source: March 2023 issue of CAD & Graphics (http://www.cadgraphics.co.kr)