(Ongoing) Civil-military technology transfer project
Civil-military technology transfer project (applied)
Development of an education and training system for multilateral submarine institutional equipment based on extended reality

"Through simulation training equipment, extended reality-based training content, and systematic operating environment R&Dㆍdemonstration
Expanded Reality Son Won-il Class Submarine Machine Equipment Education and Training System Standards Prepared"

Task Name : Development of an education and training system for multilateral submarine institutional equipment based on extended reality
Task period : 2021.12.01~2023.11.30
Government Department : Ministry of Trade, Industry and Energy, Defense Acquisition Program Administration
Assignment number : 21-SN-MU-09
Organized by : Samwoo Soft Co., Ltd.
Research Director : Daehee Kim

Submarine engine equipment training simulation engine equipment R&D
Development of information acquisition module and construction of sound equipment for production of full-scale 1:1 institutional equipment and interworking with mixed reality
R&D of extended reality-based institutional equipment training operation environment and contents
Development of extended reality-based education and training system and implementation of related technologies

Son Won-il Class submarine design and implementation of institutional-equipment content
(Three types of teamwork , 7 types of electrical systems, 10 types of propulsion engine systems )
Operational demonstration
Demonstration through test certification and field operation for practical operation of the education and training system




Development of an extended reality-based multilateral submarine engine equipment training system (construction of a Son Won-il class submarine engine equipment training system)
| | |
| --- | --- |
| | |
| Extended reality equipment and 3D resources | XR-based engine equipment operating environment |
| | |
| --- | --- |
| | |
| Participant collaboration and interactive environment | Submarine Equipment Training and Training System |

[23.03.17.] Civil-Military Affairs Monthly Meeting in March
The Civil-Military Affairs and the March Monthly Meeting were held in Elim Dippi, Inc
Civil-Military Affairs Monthly Meeting Attend - Elim Dippi, Inc Visit
[22.11.25.] Conduct a Critical Design Review (CDR) meeting
The CDR meeting was held in the XR Lecture Room of Samwoo Immersion Co., Ltd.
『Development of an education and training system for multilateral submarine institutional equipment based on extended reality』 Task

Critical Design Review (CDR) Meeting
[22.04.29.] System Requirements Review (SRR) Meeting Held
The SRR meeting was held at Samwoo Immersion XR Lecture Room, Inc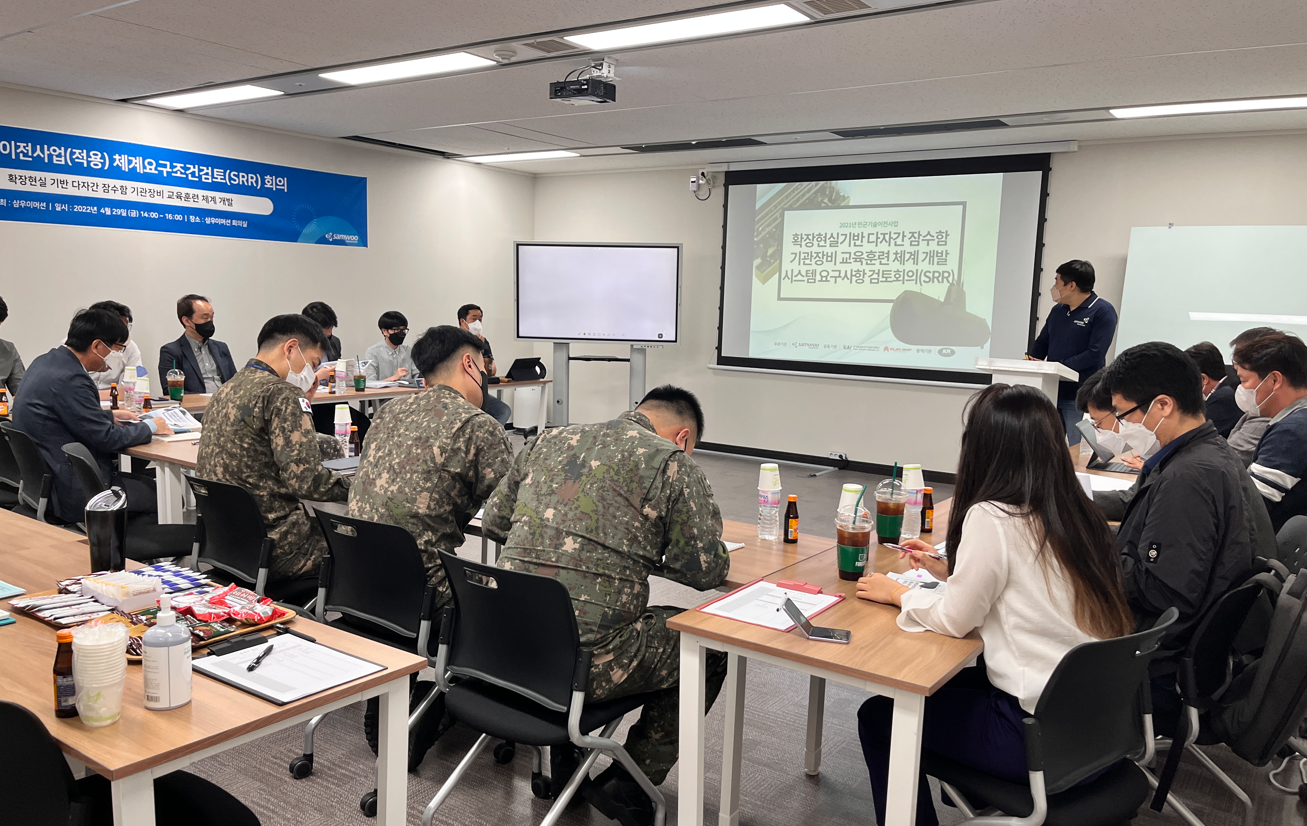 『Development of an education and training system for multilateral submarine institutional equipment based on extended reality』
Task System Requirements Review (SRR) Meeting