[Asian Economy 22.05.12.] Strengthening youth employment competitiveness … Shilla University, 'Silla Job Festival'
[Asia Economy Reporter Hwang Doo-yeol] Shilla University held the 'Silla Job Festival' in the general lecture hall on the 12th to strengthen the employment competitiveness of local youth.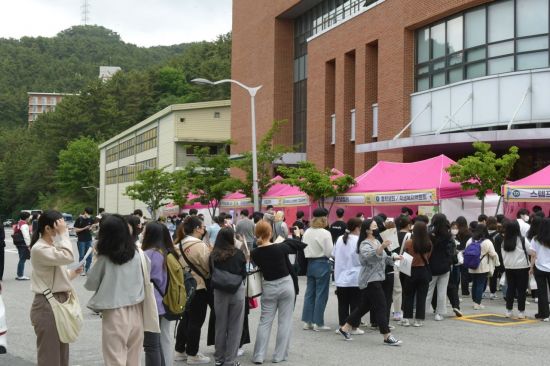 Local youth and Shilla University students attend the 'Silla Job Festival' and do a stamp tour.
The 'Silla Job Festival' was hosted by the Silla University University Jobs Plus Center and the Busan Economic Promotion Agency.
This event helps young people in the region to build a partnership with excellent companies in the region's main industries to resolve the job mismatch and support young people to settle in the region.
At the event, about 800 local youth and Shilla University students who started full-fledged job search activities participated in various programs.
The event venue is ▲the 'Corporate Hall' that provides employment consulting and company recruitment information ▲The 'Recruitment Hall' that conducts job interviews ▲The 'PR Hall' that promotes employment support projects and youth employment policies ▲Expanded reality (XR) experience, caricatures, etc. It was operated in four halls, including the 'Experience Hall', which operates events.
In the corporate hall, 20 excellent companies in each area such as tourism, finance, marketing, IT, education, and sports participated, and HR managers conducted customized job information and recruitment counseling. Of these, 10 companies selected talent through on-site recruitment.
During the special lecture session by company representatives, Samwoo Immersion CEO Kim Dae-hee gave a lecture on the subject of 'In the era of the metaverse, we want such talented people'.
There was also a question-and-answer session for job-seeking students, as well as directly introducing the trends of employment in the IT field, a promising future business, and CEO Kim's experiences.
Unique events such as busking, employment tarot, personal color booth, stamp tour, and giveaway were also held.
Il-kwon Bae, the head of the University Job Plus Center, said, "We will do our best to nurture talents with all the necessary competencies for the development of promising industries in the future with the specialized one-stop employment support service of the Shilla University University Job Plus Center."
Since opening in 2016, the Shilla University University Jobs Plus Center has been providing youth-specific employment services that provide one-stop support for local youth from expert advice, career setting, competency development, and job connection.
Reporter Doo-Yeol Hwang from Yeongnam Reporting Headquarters bsb03296@asiae.co.kr