[Siheung Times 22.09.14.] Epic Games Korea Unveils Unreal Summit Online 2022 Full Session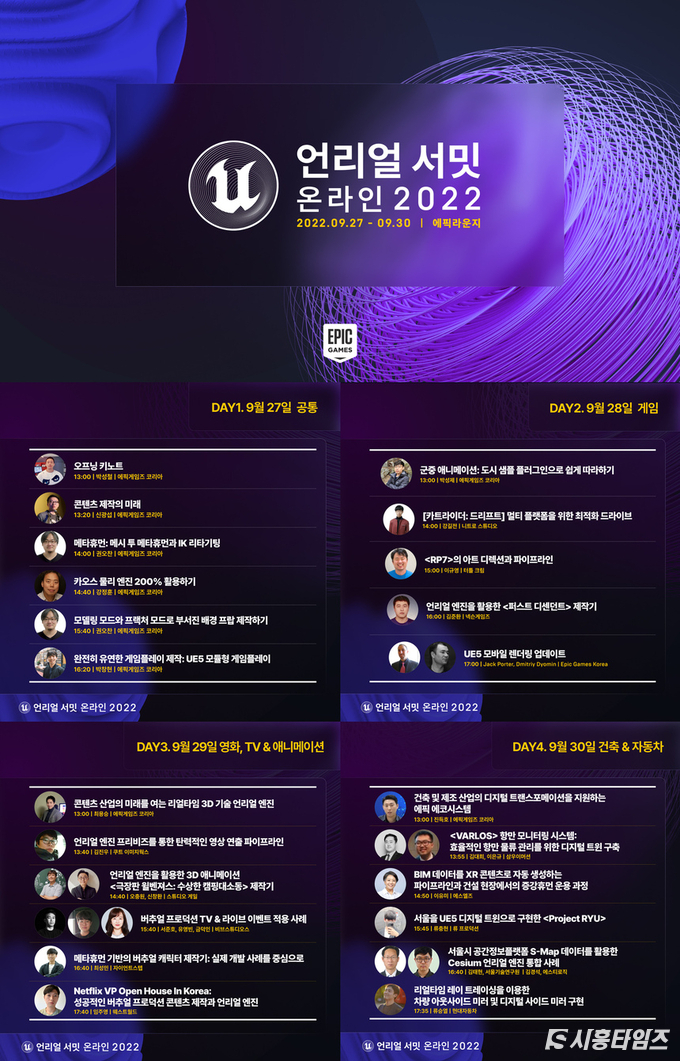 ▲ Epic Games Korea Unveils Unreal Summit Online 2022 Full Session
(Siheung Times) Epic Games Korea (CEO Park Seong-cheol), the Korean subsidiary of Epic Games, a global game developer and provider of Unreal Engine, store and everything for the digital creation ecosystem, will be held online from September 27 to 30. The full session and details of the 'Unreal Summit Online 2022' have been released.

Unreal Summit is the largest conference in Korea to share Epic Games' innovative Unreal Engine technology and development know-how. As the field of use of Unreal Engine is rapidly expanding to all industries with each passing year, sessions for creators in various fields will be held for free this year as well.

In Unreal Summit Online 2022, a total of 20 sessions will be held under the themes of September 27 (common), 28 (game), 29 (movie, TV & animation), and 30 (architecture & automobile industry).

On the first day, sessions on topics common to various industries are held. Starting with the opening welcome speech of Epic Games Korea CEO Park Seong-cheol, he will explain changes and innovations in content production methods through Unreal Engine in all industries and the ecosystem of Epic Games under the theme of 'the future of content creation'. Also included are some of Epic's key Unreal Engine 5 technologies, including 'Utilizing 200% of the Chaos Physics Engine', 'Creating Broken Background Props with Modeling Mode and Fracture Mode', and 'Creating Fully Flexible Gameplay: UE5 Modular Gameplay' Here's a lecture on 'Metahuman: Mesh to Metahuman and IK Retargeting' to introduce how to easily create a high-quality digital human.

In the game session on the second day, Nexon Games introduces the case of 'First Descendant', a multi-platform game that is being produced with high visual quality using Unreal Engine under the theme of 'First Descendant Creator using Unreal Engine'.

In addition, Nitro Studio will cover cases related to the implementation of a pleasant cross-play environment on various platforms such as PC, mobile, and console under the theme of 'Kartrider: Drift: Optimized Drive for Multi-platform'. Also, indie developer Turtle Cream will share the process of building a toy style art direction and asset creation tips for small development teams under the theme of 'Art Direction and Pipeline of RP7'. In addition, 'Crowd Animation: Easy to Follow with the City Sample Plugin' and 'UE5 Mobile Rendering Update' sessions announced by Epic Games are also available.

On the third day, sessions related to movies, TV & animation will be held. Westworld introduces the know-how to create the highest quality results in a short time under the theme of 'Netflix VP Open House in Korea: Successful Virtual Production Content Creation and Unreal Engine'. Giant Staff shares tips to help create realistic characters based on their experience in digital human production, including the recent case of 'SORI'. At Vive Studios, 'Kiss the Universe', which was produced using Unreal Engine, a BTS performance in '2020 MAMA', etc. based on real cases.

Studio Gale prevised the production period of 'Theatrical Version Wilvengers: Suspicious Camping Uproar', Korea's first feature-length animation produced with Unreal Engine, under the theme of 'A flexible video production pipeline through Unreal Engine Previs'. Guidance on how to direct. Epic Games Korea will also give a lecture on the topic of 'Real-time 3D technology of Unreal Engine that opens the future of the content industry'.

On the fourth and final day, lectures on architecture & automobiles will be prepared. In particular, in the field of architecture, various examples of digital twin construction using Unreal Engine will be introduced. Russell of Ryu Production shares how a small team can produce high-quality digital twins in a lecture on 'Project RYU, which implemented Seoul as a UE5 digital twin', and Samwoo Immersion uses 'VARLOS port monitoring system' for efficient port logistics. The digital twin built for management will be introduced, and the Seoul Institute of Technology will introduce the digital twin construction process for 'Cesium Unreal Engine integration using Seoul spatial information platform S-Map data'.

In addition, Hyundai Motor Namyang Research Institute's 'Vehicle exterior mirror and digital side mirror implementation using real-time ray tracing' and SLLS' 'Pipeline that automatically generates BIM data into XR content and augmented human operation experience at construction sites' A lecture titled 'Epic Ecosystem Supporting Digital Transformation of Manufacturing Industry' will also be held.

Park Seong-cheol, CEO of Epic Games Korea, said, "This Unreal Summit Online 2022 is innovating the way to create and experience 3D interactive content through Unreal Engine in all industries, including games, movies, TV, animation, architecture, and automobiles. We have prepared unprecedented sessions that will be of direct help to creators.' Of course, I hope creators can get creative inspiration for a truly digital future through innovative examples."

Those who wish to participate in Unreal Summit Online 2022 can apply for free pre-registration on the Epic Lounge website and log in according to the lecture time. All lectures can be viewed on PC and mobile.