[Distribution Newspaper 22.12.06] 2022 Future Logistics Technology Forum International Seminarwas held
2022 Future Logistics Technology Forum International Seminar was held

Richard Yongk, a futurist, said, "You should not encounter change without defense..."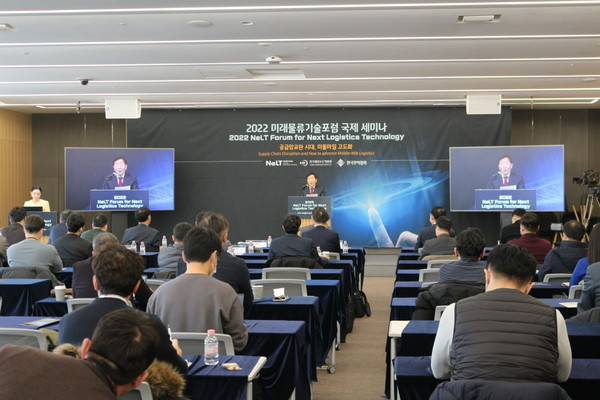 Hosted by the Future Logistics Technology Forum, the Korea Maritime Institute and the Korea International Trade Association, the 2022 Future Logistics Technology Forum was held in the conference room on the 51st floor of the Trade Tower on the 2nd.
The seminar, which was held offline and online for the first time in three years, was held under the theme of "The Age of Supply Chain Disruption, Middle Mile Advancement," and Richard Yongk, a renowned futurist, participated in the keynote speech. "The logistics industry is already undergoing a lot of changes, but we will see more changes in the next 10 or 20 years," futurist Richard Yongk said in a keynote speech. "The most important thing for change is the speed of change in progress. "It is progressing considerably faster than in the past, and it will accelerate in the future, and we should not face changes without defense," he stressed.
Since then, he has cited the continuous increase in the world's population, environment, artificial intelligence, quantum computing, autonomous driving, the Internet of Things, and blockchain as trends that will affect the future logistics environment. "Without the Earth, everything becomes meaningless," he said at the end. "Protecting the Earth is the most important thing. "Future technology will also make more changes than we talked about today," he said at the end of the lecture. In the following session, Myung Chang-guk, in charge of LG CNS smart logistics and Next Fulfillment, Kim Seung-han, vice president of Freightman, Kim Jae-nam, head of KT's digital logistics business P-TF, and Kim Dae-hee, CEO of Samwoo Immersion, continued to present the advancement of Middle Mile.
Kim Sung-jin, chairman of the Future Logistics Technology Forum, said in his opening speech, "It's new to be together offline after a long time," adding, "I hope today's international seminar will be a forum to check the rapidly changing trends and talk about middle mile advancement in the era of change, future, and supply chain disturbance." He then explained, "Today is a short time, but I am confident that it will be a stepping stone to take logistics technology to the next level.