[K Global Times 23.05.04.] Samwoo Immersion takes the lead in cultivating talent in the 4th industry by commercializing digital twins and metaverse
Actual application to industrial sites such as metaverse and digital twin technology
Expansion of contact points with overseas markets where demand for technical labor has increased
Focus on increasing sales and operating profit by diversifying portfolio this year
Source : K Global Times(http://kglobaltimes.com)

[K Global Times] Regardless of industry, industrial sites are driving digitalization. Even if you have skilled technicians who are good at the job, it is easy to lose competitiveness if you do not quickly accept the new technologies required by digital transformation. As a result, the demand for talents in the 4th industry with an experimental and flexible attitude is steadily increasing.

Samwoo Immersion is playing the role of a driving force in mass-producing talents suitable for the 4th industry. In particular, it succeeded in putting the metaverse technology, which had rarely escaped the frame of a game and raised questions about its function, into the industrial field and put it to practical use. Samwoo Immersion is creating a sensation in the field of job education and training at home and abroad through attempts to expand and transform next-generation technologies such as extended reality (XR) and digital twin.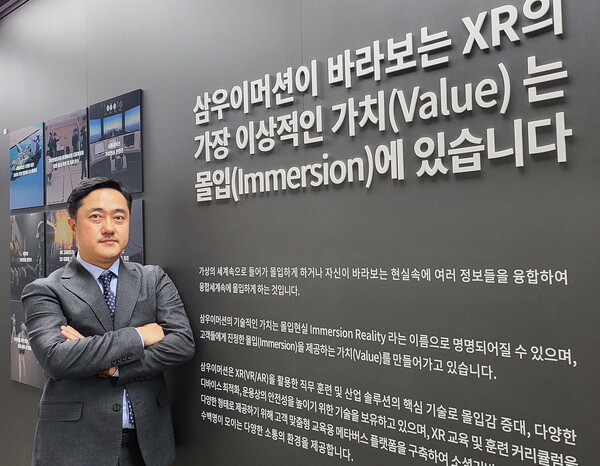 < Samwoo Immersion CEO Kim Dae-hee [Picture=Samwoo Immersion] >
Respond quickly to the demand for education and training for talents in the 4th industry

Recently, more and more companies are exploring digital transformation as labor supply is disrupted due to population decline, especially in developed countries. In addition, with the spread of non-face-to-face culture due to Corona 19 and the issue of improving worker safety, the digital twin technology market such as augmented reality (AR) and virtual reality (VR) is also heating up. By using these technologies, technical education and training can be conducted in an immersive space regardless of time and place. In particular, it hopes for light in industrial sites where dangerous work is common.

Samwoo Immersion is leading changes in the education and training market by quickly applying this technology to industrial sites. Samwoo Immersion can be summed up as a metaverse platform company based on XR total solution. It has developed XR-based solutions and platforms specialized for industrial job training and is supplying them to various industries such as marine, aviation, and medical.

CEO Kim Dae-hee, who has a lot of bones in the field of job training, naturally fused his talent and know-how with XR technology. It proved the value of digital twin technology by bringing VR, AR, and XR technologies, which were limited to games and experiences, into the industrial field.

CEO Kim hints at Samwoo Immersion's determination to be at the forefront of cultivating leaders suitable for the future industry, rather than concentrating only on profit creation. Based on this philosophy, CEO Kim has established and is operating an XR-based job training & talent development center, and is serving as the chairman of the 'Korea Industrial Job Association', which was established earlier this year.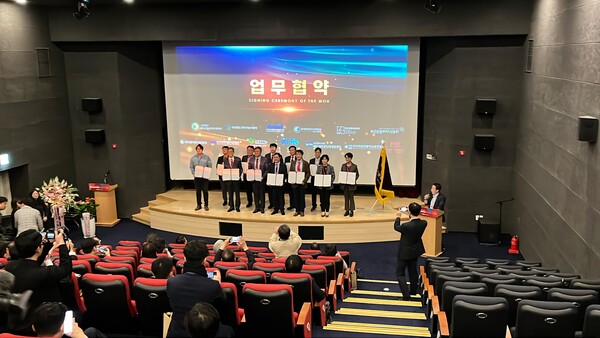 < Business agreement ceremony at the inaugural general meeting of the Korea Industrial Jobs Association [Picture=Samwoo Immersion] >
Diversification of site use with self-developed solutions

Samwoo Immersion's flagship solution is 'IMXR', an integrated XR solution for education and training. Based on practical contents production technology in various fields such as marine, aviation, and medical, it is designed to enable job education and training without space limitations. It is divided into hardware solutions 'IMXR STATION' and 'IMXR SIM' and user-customized 'XR Training Room' to experience practical skills in an environment optimized for XR contents by field.

Samwoo Immersion's XR-based digital twin system 'VARLOS' is accelerating the digital twinning of industrial sites. This system processes location-based data and applies it to a digital control system with XR technology to realize the same environment as real-time industrial sites. In addition, by combining an IOT platform that enables two-way interaction, data is continuously updated and managed. Through this, it is possible to predict performance and derive problems in a timely manner, thereby increasing operational efficiency. To enhance user convenience, optimized management information is provided when key data of the target environment is entered.

In addition, the digital twin solution 'Safety Monitoring System for Maritime Construction' based on AR technology is also a solution with many advantages. In addition, the '3D terminal model-based operation monitoring digital twin system' can implement realistic simulation and simulation of the actual operation situation of the terminal through digital twin model-based port terminal control monitoring. In addition, Samwoo Immersion also has a 'ship monitoring digital twin system' that implements digital twin monitoring using shipyard drying shelf data that provides various service levels such as forecast information.

.In addition, Samwoo Immersion's customer-customized educational metaverse platform 'BEYOND LINK' was newly launched. Expectations for expansion and investment in the metaverse market have been high, but evaluations say that there is no substance. Samwoo Immersion plans to make the value of the metaverse blossom in the education market. It has already been useful in building the Polytechnic University's metaverse virtual campus, and this year, it contributed significantly to the construction of the 'KIJAVERSE WORLD', a metaverse platform for nurturing industrial talents of the Korea Industrial Job Association.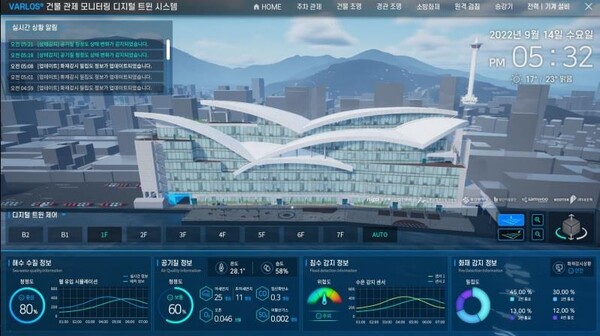 < Digital Twin VARLOSⓇ Jagalchi Market Integrated Control System [Picture=Samwoo Immersion] >
Challenge to the world's first best

Samwoo Immersion plans to launch its native XR and Metaverse solutions on the global stage beyond the Korean market, including the Busan region where its head office is located.

Market research firm IDC estimates that the global XR market will soar more than 10 times from $10.7 billion (about 11 trillion won) in 2020 to $136.9 billion (about 150 trillion won) in 2024. Samwoo Immersion is targeting the overseas market with proven solutions. With the Dubai exhibition that they participated in last year, they are preparing to enter the Middle East, India, and Southeast Asian markets. These countries are highly interested in nurturing technical manpower, and demand for continuous education and training is expected.

CEO Kim Dae-hee said, "Samwoo Immersion maintains continuous communication with local partners. Also, it is speeding up the development of education and training platforms without missing the demand for high value-added manpower training in the Southeast Asian market." I will make it to the top," he said confidently.

Meanwhile, Samwoo Immersion's goal for this year is 'Quantum Jump'. In other words, the direction of sales expansion and operating profit increase is clearly revealed. Specifically, the focus is on achieving KRW 10 billion in sales through an increase of more than 200% compared to last year, and increasing operating profit through continuous commercialization of content and expansion of use of education and training platforms.

[K Global Times Reporter Jeonghoon Choi] paraclituss@naver.com

Source : K Global Times(http://kglobaltimes.com)