[Economy in News 2022.09.29.] SAMWOOIMMERSION, the most advanced XR total solution-based metaverse platform company
Korea is undoubtedly an IT superpower. Its technological prowess has already been recognized worldwide, and it is expected that Korea's majesty will grow even more in line with the 4th industrial era. The reason why it was able to be called an IT superpower is because there were various efforts by countries and companies to secure national competitiveness.
Companies have made efforts through continuous technology development, and the country has made bold investments accordingly. Efforts to nurture global talent have also been added in the field of nurturing IT talent. All of this worked like cogs, and the result was the title of an IT superpower.
Among them, SAMWOOIMMERSION is attracting attention in the industry for its specialized technology and systematic solutions. We met with Daehee Kim, CEO of SAMWOOIMMERSION and heard more detailed stories.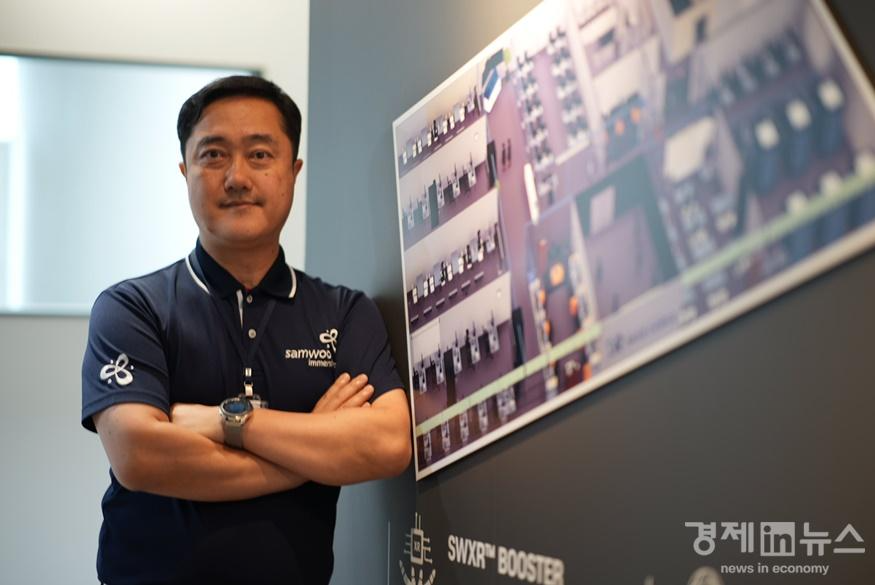 Daehee Kim, CEO of SAMWOOIMMERSION
What kind of company is SAMWOOIMMERSION?
Samwoo Immersion is an 11-year-old company founded by me, an expert in the maritime field, in 2011. The beginning was to develop a simulator by combining the difficulties experienced while working in the maritime field with IT technology. As we started AR/VR development in 2016, we expanded our business not only to Heyang but also to all industrial fields. By expanding its scope to the establishment of education and training centers, it is positioning itself as a leading company in total IT solutions.
Even now, I am leading SAMWOOIMMERSION myself, and I have been invited to special lectures on IT manpower training and job training across the country, and I am also actively engaged in lecture activities.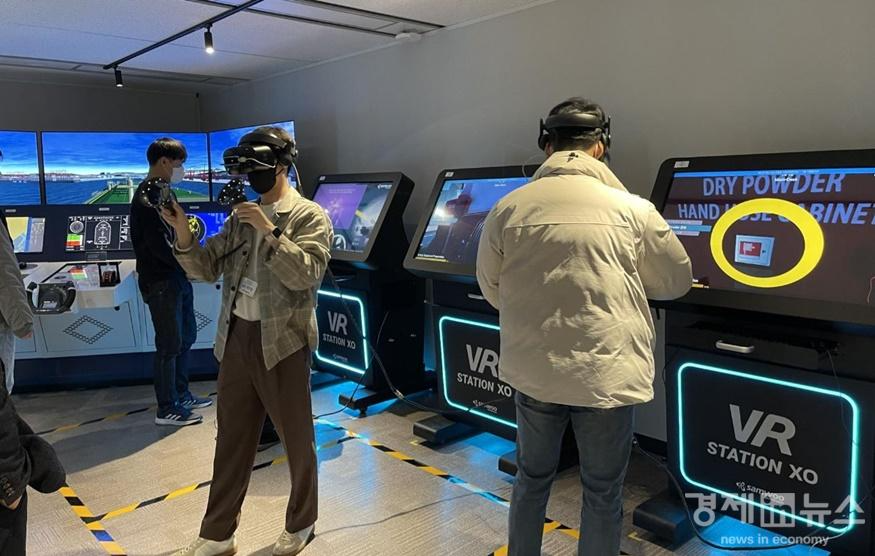 SAMWOOIMMERSION's VR station
About our main business areas
From 'IMXR' (XR integrated solution for education and training) to 'SWXR CAMPUS' (XR-based job training & talent nurturing center), 'BEYOND LINK' (metaverse platform for customized education), 'SMARTWORKER' (all-in-one smart remote work support platform) ) and 'VARLOS' (XR-based digital twin system) are operating services in five major areas, and are currently actively expanding the fields by focusing on SWXR CAMPUS and BEYOND LINK.
First, SWXR CAMPUS is the world's first XR-based job training/talent nurturing center with the title of a future-oriented XR space that SAMWOOIMMERSION has been developing and is currently developing to efficiently utilize the job training contents in the industrial field. It can be seen as a vocational training center, and it is meaningful to provide services so that customers can experience and learn specialized jobs through the center to improve productivity.
In addition, BEYOND LINK, a metaverse platform, is a business area to build a customized metaverse platform based on IMXR, the core technology of Samwoo Immersion's own XR content production. It is meaningful to create a new communication culture for customers by building virtual spaces for various purposes such as exhibitions, conferences, and various gatherings, and is expanding its scope due to the rapidly increasing interest in Metaverse.
Through technology development that has continued for more than 10 years, SAMWOOIMMERSION has acquired ISO9001 · ISO14001 certification, as well as 14 technology patents, about 30 program registration certificates, and 7 first-class software quality certificates. -Biz), technological innovation-type small and medium-sized enterprises (Inno-Biz), promising export small and medium enterprises, excellent employment enterprises, and commendation from the Ministry of Trade, Industry and Energy, etc.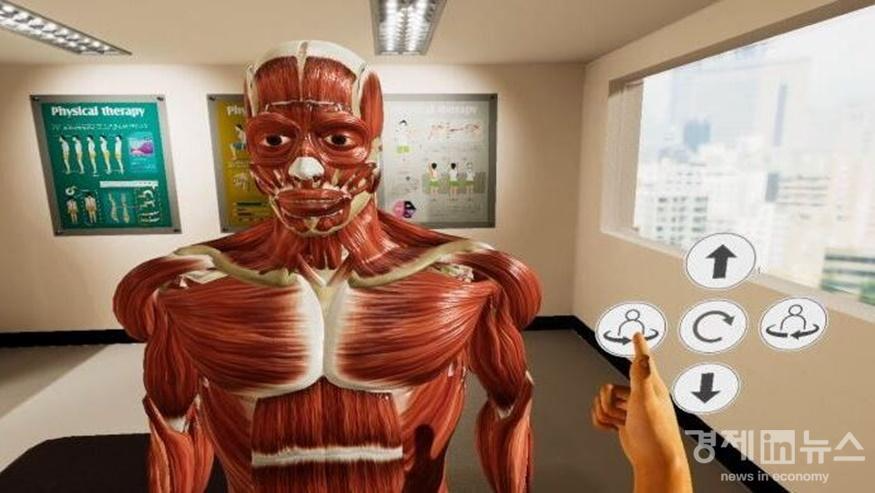 VR content of SAMWOOIMMERSION
what are your goals for the future
As the name 'Samwoo (三友)' suggests, we aim to create common values by connecting the three points of customers, employees, and shareholders to balance each other. If you encourage employees to carry out their work with pride in their work and company, they will work diligently to provide true immersion to customers, and satisfied customers will return to Samwoo Immersion. will find It will soon lead to the company's profits (shareholder satisfaction). And a virtuous cycle occurs only when a structure in which the profits generated in this way can inevitably be returned to the employees. We are constantly working to get this basic balance right.
It started as a software development business, but now it is being transformed into a manufacturer and is being reborn as a company that focuses on 'production' rather than 'development'. By grafting the contents that have been developed so far to the infrastructure called 'SWXR CAMPUS', it is possible to build the same campus anywhere in Korea as well as abroad, thereby promoting global sales expansion. Therefore, it is planned to operate one center for each sub-field of each industry. At the base of this goal, as always, there will be concerns to listen to and improve on the difficulties of industrial sites, and as our slogan, we plan to challenge without limiting our technology so that we can take a leap forward to 'crossing boundaries and into a new reality' every moment.
By Choi Ji-min , staff reporter cjimin@newseconomy.kr