[Seoul Economics 21.11.01.] Dongmyung University's 'Do-ing' University Mentor professor hiring a large number of top experts
Dongmyung University's only 3 non-graduate (no grade-no-credit-no-teaching) innovation 'Do-ing' university in Korea that nurtures practical intellectuals who can live in any world, top experts in various fields are active in large numbers. There are a total of 40 authority figures from their 20s to their 80s.

According to Dongmyung University on the 1st, on the 29th of last month, a ceremony to deliver the appointment letter of the mentor professor for the 2021 academic year of Duing University was held at the Central Library. On this day, President Ho-Hwan Jeon said, "By inviting the best mentor professors from Do-ing University in Korea, the practical, experience, and practice-based educational innovation pursued by innovative universities in the US and Europe is now possible. "I will focus on maximizing my capabilities so that I can grow into a practical intellectual who has the personality and ability to live in the world."

In a lecture on 'creativity', head of the Institute for Science and Technology Job Promotion, Shin Kyung-ho, a member of the faculty, he actively sympathized with the direction of education pursued by Do-ing University and supported the start of innovative education. He introduced the purpose, operation form and performance of the Global Youth Entrepreneur Training Course (also called GYBM, Daewoo Military Academy or Kim Woo-jung Military Academy) by Park Chang-wook, secretary general of the Daewoo World Business Research Association, and presented realistic plans for the career path of do-ing talents.

In the future, the Daewoo World Business Research Association will support the activities and educational programs necessary for Dongmyung University Do-ing University graduates to find employment as managers of overseas businesses, and Dongmyung University will promote the 'mutual agreement' to contribute to the qualitative and quantitative growth of the organization. decided to do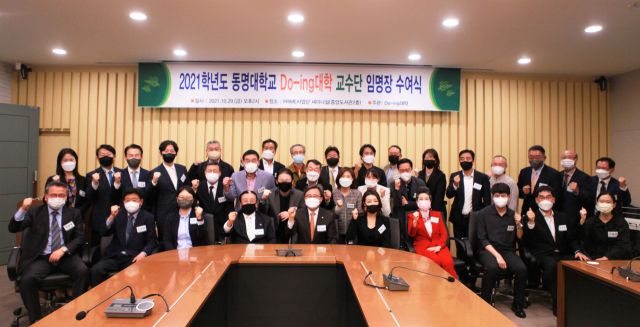 The delivery ceremony of the appointment letter of the mentor professor for the 2021 academic year of Duing University held at Dongmyung University Central Library. On this day, 40 top experts in various fields, from their 20s to their 80s, received their appointment letters. / Photo courtesy of Dongmyung University
The main characters appointed as mentor professors for the 2021 academic year include Hak-su Kim, Secretary General of UN ESCAP, Min-bo Shim, Chairman of The One Platform (former President of the Korea Yacht Association), Joong-heum Park, Chairman of Korea Plant Industry Association (former President of Samsung Engineering), and Cheol-hwan Jeon, Co-CEO of UMI (Former Samsung Group CFO and CIO) , Park Heung-soo, CEO of Seoul Aero Club (manufacturing of lightweight aircraft), KC LNG Tech CEO Mun-geun Ham (former vice president of Samsung Heavy Industries), Park Tae-man (invited author of the National War Guard Competition), Park Eun-soo, president of the Youth Nature Exploration Federation, Shin Seung-hoon, director of the KOTRA Busan Support Team ( Detroit Trade Center Director), Kim Im-kyung (singer), S Cube Design Lab CEO Jeong Seon-hee, Park Heung-jin, Korean Air Boy Scouts Busan Gyeongnam Secretary General, Seo Hong-soo Paragliding School Operation (former Paragliding National Representative), Jeong Hyun-jin, CEO of Nemo Communication Development Institute (facilitator association) Chairman), Samwoo Immersion CEO Kim Dae-hee (former technology director of Vision Softtech), Lee Hye-young Law Firm representative Geum-jeong Law Firm, Korea Biosolution CEO Son Chang-woo (dressage Busan Metropolitan City Representative), NH Investment & Securities Manager Yoon Mi-ra, Grace Joe New Asia Opera General Manager, Yoo Su-yeon The faculty consisted of 40 professors, including the English Department of Busan University of Foreign Studies, Lecturer of the Youth Overseas Expansion Project Group, Pianist Lee Yong-hyun (composer, music educator), Seung-heon Lee, CEO

of Supercell, and Na Ha-ri, CEO of Naga World. Reading, writing, speech, practical stock investment, financial statement preparation, cryptocurrency mining, entrepreneurship, practical start-up, discussion/facilitator, corporate intern/CEO interview, sailing, You will be coached in various subjects such as horseback riding, calligraphy, paragliding, storytelling in daily life, and YouTube production.
Another thing to note at the event is the story of two musicians, Se-ho Yoon and Hyung-bae Park, who created their own music world and were appointed as visiting professors at Dongmyung University's Do-ing University. Do-ing was able to attend these events with the warm loving care of her family and those around her by not losing her dream and courage for music, practicing it with passion, even though she suffered prejudice against disability physically and mentally. It was also a time when I felt again about 'practice' and 'love'.
The music group 'Nanugi World', to which the two performers belong, is led by the young CEO Na Hae-ri, born in 1995, and supports active performances and performances for those with musical talents among the disabled. At this appointment ceremony, they enjoyed the beautiful trio of three songs, including 'Nella Fantasia', and wrapped up the fall meeting of the Do-ing University faculty in 2021, when the philosophy of three-nothing education is ripening.
Seo Jong-su, Dean of Doing University, said, "The Do-ing University Faculty Appointment Event is the most important preparation for the 90 Do-ing undergraduate freshmen who will enter in 2022. He emphasized, "The faculty members of this faculty are those who have made remarkable contributions to the development of today's Korea, and are proud to be good coaches and mentors who will share their experiences and wisdom with students."
< Copyright holder ⓒ Seoul Economic Daily, unauthorized reprinting and redistribution prohibited >
Source: https://www.sedaily.com/NewsView/22TUJCBRY0