[International Newspaper 22. 03. 22.] Startup Samwoo Immersion XR-based crew training facility opened
Applicable to actual crew training prior to field deployment High expectations for time and cost savings
A ship crew training program based on XR (extended reality) has been opened in Busan, and it is expected that it will be helpful in practical application before field deployment. Extended reality is a technology that encompasses virtual reality (VR) and augmented reality (AR).

Samwoo Immersion, a startup in Busan, held an opening ceremony for the 'SWXR (Samwoo XR) Campus' at its headquarters in Dong-gu on the 22nd.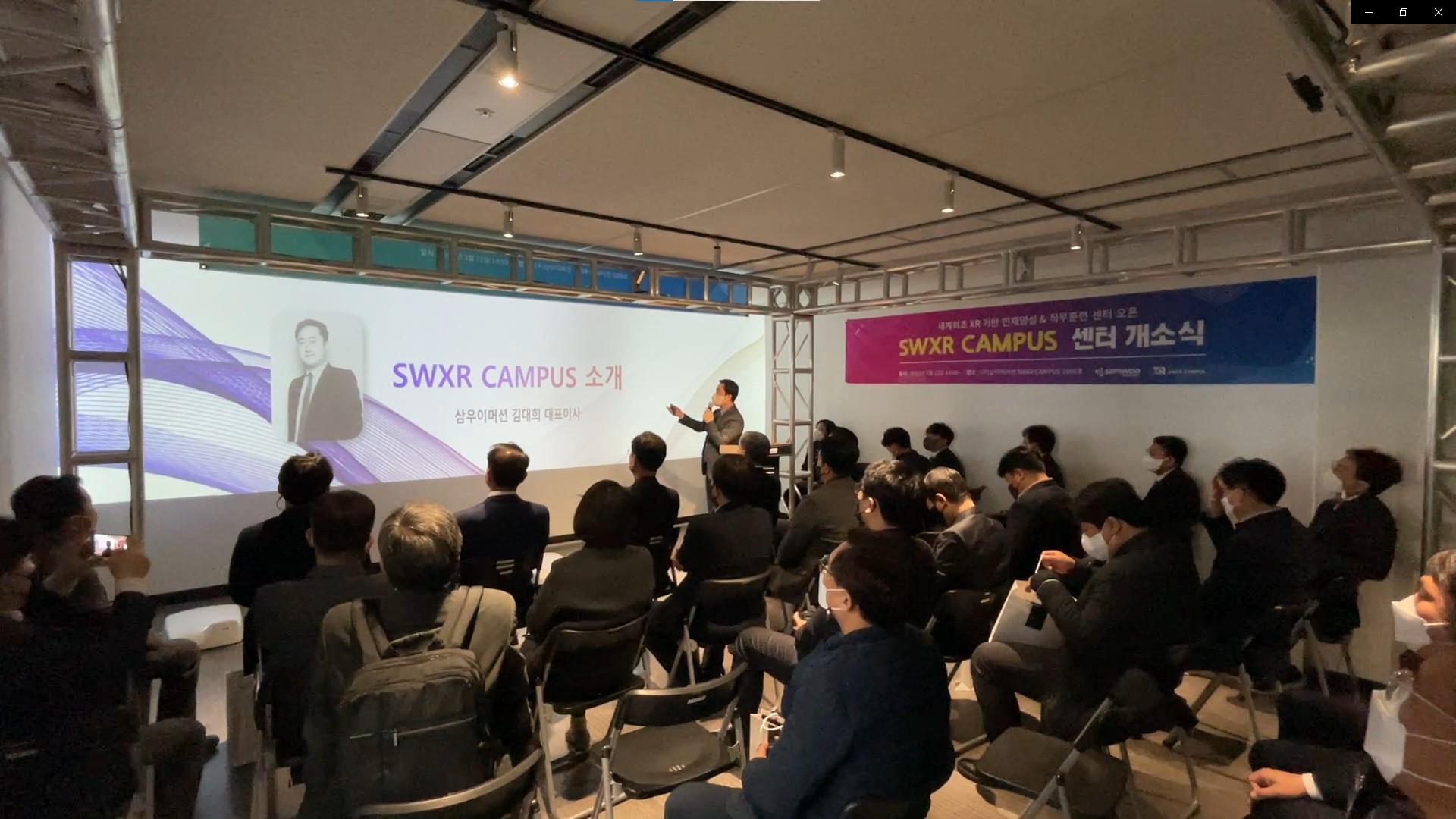 Daehee Kim, CEO of Samwoo Immersion during the SWXR CAMPUS opening ceremony
Based on the expanded reality, new crew members of the ship can experience cargo management and safety management. This facility was prepared with the understanding that it is difficult to train crew members who can be used immediately in the actual field just by completing three months of legal training. Some shipping companies had great difficulties, such as extending the training for new crew members to six months.

 Samwoo Immersion's job training focuses on safety response, and can practice cargo transfer and ballasting (holding the ship's center of gravity when handling cargo). The training focuses on LNG vessels, which are liquefied natural gas carriers with a temperature of minus 163 degrees Celsius. Daehee Kim, a graduate of Korea Maritime University, said, "When a problem occurs on a ship, you can experience which valve to close and what kind of work to do. I made it possible to learn it on my own," he explained.
A crew training scene of Samwoo Immersion. Provided by Samwoo Immersion



Prior to the opening ceremony, on the 3rd and 4th, 'Basic training for LNG carrier cargo management using extended reality-based contents' was held, and received favorable reviews from crew members participating in the program. Samwoo Immersion also supported an education program using XR to Korea Maritime University in 2020.

The company is currently looking beyond ships to advance into aviation and medical fields. In fact, we are producing contents related to aviation maintenance with a company in Gyeongnam, and we are discussing delivery of XR-based education programs with the nursing department of university hospitals in the metropolitan area. CEO Kim said, "We will be able to dramatically reduce the cost and time required for job training in various fields.
International Newspaper | Reporter Junyong Kim jykim@kookje.co.kr
| Input: 2022-03-22 17:01:52