[Busan Ilbo 22.04.11.] Metaverse AI VR… Smart technology permeating the Busan education field
Providing high-tech educational facilities and experiential space ' AI solution' to help with interviews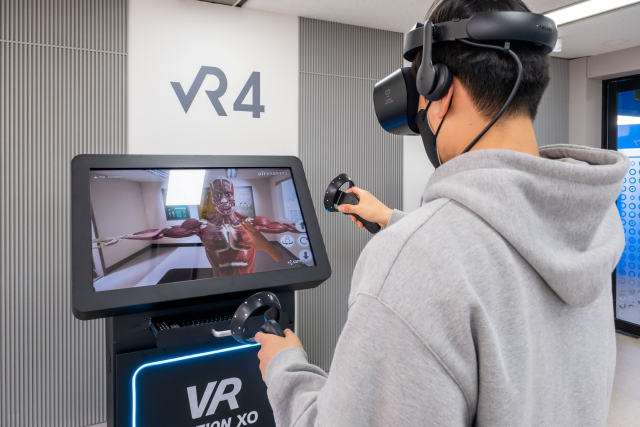 A student from the Department of Physical Therapy at Dong-Eui University of Science and Technology is examining VR contents of functional anatomy. Provided by Dong-Eui University of Science and Technology
As the prolonged Corona 19 leads to online technological innovation, various attempts such as space construction and R&D using core technologies of the 4th industrial revolution are continuing in the educational field in Busan.
Dong-A University recently completed the 'INSPIRE HALL', a multi-purpose smart classroom on the 3rd floor of the Seunghak Campus Professor Hall. This hall features a large screen that fills the walls and sound/recording facilities, enabling cutting-edge education using the network. With 191 seats, including 50 for computer classes, it will be used for lectures and practices in the College of Health Sciences and Smart Healthcare Convergence Majors, as well as the employment support room program. An official from Dong-A University said, "It is possible to practice using virtual reality and augmented reality, so we are expecting an immersive, cutting-edge education."
Dongui University opened a space (D-VR/AR SPACE) to experience virtual and augmented reality at the Central Library last month. Here, you can experience virtual reality (VR), augmented reality (AR), and extended reality (XR) with VR devices, large screens, and smart pads. On the first floor of the Industry-University Cooperation Building, a living lab decorated like a home is opened and used for research on artificial intelligence and the Internet of Things in everyday life.
The use of new technology in the classroom is also active. Dong-Eui University of Science and Technology opened an 'AI Cafe' last year where you can experience artificial intelligence and the Internet of Things, and recently is using VR technology for physical therapy, anatomy classes, and welding practice. The Smart Beauty Care Department and Smart Cosmetics Department, which were newly established this year, are equipped with a system that uses AI to diagnose scalp and hair and produce related cosmetics.
AI technology is also used for job-seeking students. Youngsan University has introduced an 'AI solution' to the central library from the new semester, and is supporting students to write self-introductions and prepare for interviews with AI help. Gyeongnam National Intelligence University has an AI self-introduction and interview system in a similar way.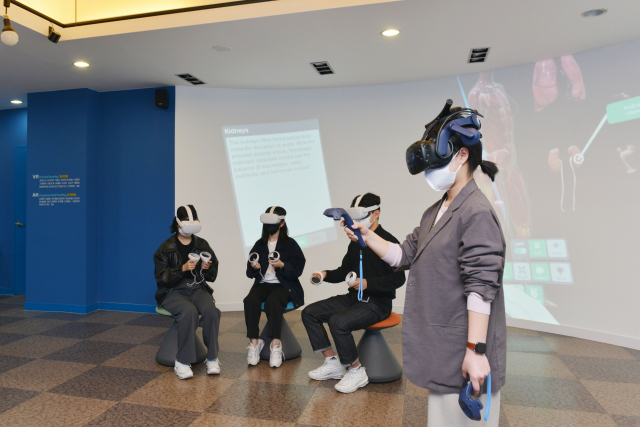 Students are examining AR and VR technologies in the experience space on the first floor of Dong-Eui University Central Library. Provided with consent
Research collaboration between universities and companies is also active. The BK21 Education Research Group at Pusan National University and Pukyong National University decided to collaborate with Samwoo Immersion, a company specializing in XR, on R&D in the fields of 'digital twin' (a technology that implements real objects identically in the virtual world) and metaverse (virtual world) in cooperation with XR specialist Samwoo Immersion last month. . The three organizations plan to go beyond nurturing related talents and use the technology to analyze problems in the industry and come up with solutions. Kyungsung University and Dong-A University have also recently signed an agreement and are building a metaverse-based cooperative system that encompasses hardware and software.
Dongseo University recently received a cryptocurrency donation for research on blockchain technology, attracting attention. The university plans to provide benefits to current students by applying the KRW 1 billion worth of cryptocurrency 'Wemix' received from the game company Wemade to the Metaverse platform being developed in-house.
Meanwhile, a teacher club was launched in Busan on the 7th to effectively apply the metaverse technology to the education of elementary, middle and high school students, the future generation. The metaverse teacher club (12 students) develops a future-oriented class model in the metaverse environment and distributes it to front-line classrooms. study the extended model of An official from the Busan Metropolitan Office of Education said, "We plan to spread the results of the Metaverse teacher club's activities to front-line schools so that they can lead to actual students' learning and creative experiences."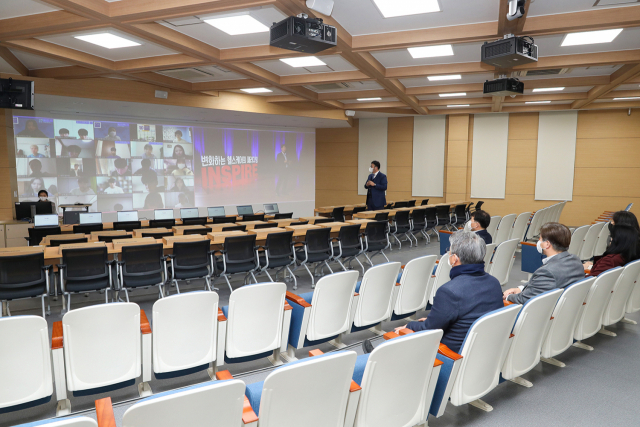 Dong-A University's recently completed 'Inspire Hall' for cutting-edge education. Provided by Dong-A University
ⓒ Busan Ilbo (www.busan.com) Reporter Lee Dae-jin djrhee@busan.com