[Industry News 19.07.25.] 'VR‧AR into the industry' Samwoo Immersion throws out a ticket with various solutions
|Aiming to become the world's No. 1 in market share for specific products
Samwoo Immersion is a company equipped with various solutions and technologies such as VR platform, tactical training simulator, and GIS-based situation control platform.
Since its establishment in 2011, it has been consistently recognized for its technological prowess, such as venture company certification, technological innovation-type small business certification, Busan excellent company certification, and leading company certification.
The areas that Samwoo Immersion has recently paid attention to are VR and AR. Based on various solutions unique to Samwoo Immersion, it contains the will to contribute to the creation of a smart factory beyond the ship and offshore field, which has shown strength in the past. Samwoo Immersion was also designated as a smart factory supplier.
VR and AR enter the industrial scene
VR and AR are technologies that have received worldwide attention. VR is an abbreviation for Virtual Reality, and it is a technology that allows people to experience the real thing in a virtual world implemented by a computer. Often referred to as virtual reality. On the other hand, AR stands for Augmented Reality. It is a technology that adds additional information to the image viewed through the device in real time. Only information that is added based on reality is created and displayed in a virtual way. Pokemon GO, which once made the whole world, including Korea, into Pokemon hunting, is a representative game that uses AR.
Daehee Kim, CEO of Samwoo Immersion said, "Pokemon GO and other games are only part of VR and AR. VR and AR are more needed in the industrial field," he explained. This is because VR and AR can work even more positively in the industrial field.
He introduced an immersive training solution. Samwoo Immersion is already equipped with various VR training systems. Among them, the program that can be used in industrial sites is 'SAR (Safe Accident Response) industrial site safety training'. The situation of industrial sites, such as sealed work and work at height, is built in virtual reality. In addition, environments such as lathe practice and elevator practice were created with VR. In addition, it is equipped with the SAR container terminal safety response training program, which has established various safety-related cases such as fire and accidents, the SAR port safety response VR simulator, SAR MEP, SAR MSP, and the maritime police accident response training system.
CEO Kim said, "VR training has great advantages. This is because the risk of training is greatly reduced. This is because actual machines or facilities are not used. Here, instead of simply watching a video or visual material, you can experience it yourself, so the educational effect is great."
In addition, training using VR affects the productivity of companies. In industrial settings, most skilled workers are in charge of training unskilled workers. It is a structure in which it is difficult for skilled workers to be fully put into production. As a result, labor productivity naturally decreases. Daehee Kim, CEO of VR, said, "The advantage of VR is that it can experience the same feeling as in reality based on interaction. There are many advantages to the company," he added.
The same goes for AR. CEO Kim said, "The biggest advantage of AR is that it can collect information and show it all at once. It is possible to implement additional information while monitoring industrial sites. Pokemon GO is of course fun, but (laughs) AR is actually more suited to industrial settings. Because AR is the best tool to provide complex visual information."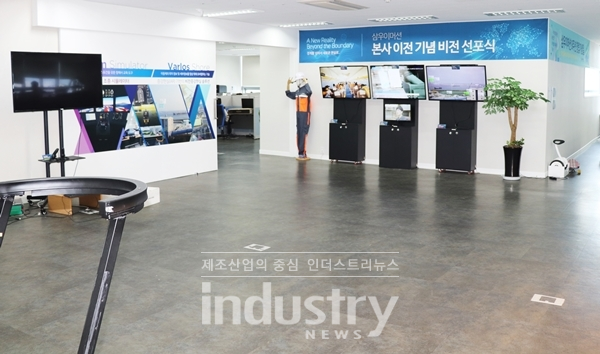 Remote work is easy, real-time information is also OK
Samwoo Immersion also has various smart factory solutions using ICT. CEO Kim said, "We also built a sample factory for university education. The most important of these is a tool that helps remote work." He said, "Actually, there are cases where workers in the field work with various devices such as drawings and mobile phones in their hands. The problem at this time is that various problems occur because the hands are not free." He explained, "We implemented a hands-free AR tool using AR technology based on voice recognition."
Wearing it is simple. All you have to do is wear a helmet with a microphone, speaker, display, and camera with various specifications. On the other hand, the uses are diverse. It can be used not only in smart factories, but also in various industrial sites such as construction, maintenance, and education. In particular, it is possible to implement a remote mentor solution. This is because it helps to communicate in real time by including a microphone, a speaker, and a high-performance HD camera. It is also waterproof and dustproof, so it can be used in various industrial fields.
CEO Kim said, "Using QR Code, you can check various information such as device information in real time. It can be applied to various fields regardless of the type of factory. In addition, the hands are freed and the communication function is also provided, so that unskilled persons can receive instructions from experts in charge of monitoring. It is also possible to connect domestic technicians with overseas workers," he added.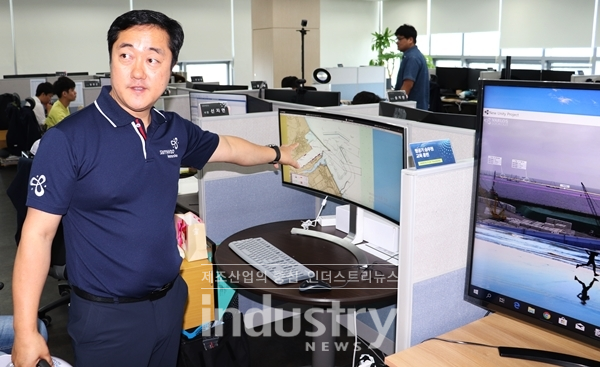 Achieving the world's No. 1 market share is a dream
CEO Kim Dae-hee emphasized that the smart factory has various advantages. However, it also expressed regret. He said, "Although we have been designated as a smart factory supplier, there are not many demanding companies in the current situation. This is because the introduction of smart factories is mostly in the 12th stage. However, in many cases, our technology can be utilized in more than 3 stages." "In fact, VR and AR will not be of much use to factories with a lot of simple repetitive tasks. It is not easy to apply our solution in a situation where the 12th stage of the smart factory has not been built."
Still, "VR and AR have really big advantages. As the smart factory transition stage evolves little by little, more companies will apply our technology. Especially where there are many dangerous tasks, VR and AR are essential."
In addition, "so that users do not feel burdened, we plan to provide a solution in the form of a monthly fee by using a cloud service. Various solutions have already been configured for various consumers, and various problems such as security have already been resolved. The goal is to create a unique ecosystem by securing 1,000 users by next year."
What I felt as a smart factory supplier became another goal of Samwoo Immersion. Daehee Kim, CEO of Samwoo Immersion, expressed his desire to grow Samwoo Immersion into a company that sees the world beyond Busan and South Korea where the company is located.
CEO Kim said, "The nature of our company is not limited to a 'smart factory supplier'. However, as a company equipped with various solutions in the VR and AR industries, the goal is to grow Samwoo Immersion into a proper IT company. One of our dreams is to achieve the world's No. 1 market share. We will show you how to be technologically advanced by using effective solutions that are located in rural areas. Please watch Samwoo Immersion's development and growth."
2019. 08 Industry News reporter Choi Ki-chang (news@indusrtynews.co.kr)