[Busan Jeil Economy 19.12.02] Busan IT companies that are pioneering overseas markets pay attention to successive achievements - Samwoo Immersion Co., Ltd.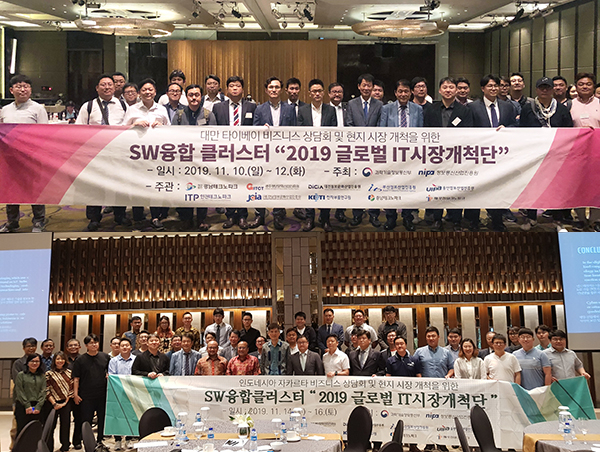 SW Convergence Cluster "2019 Global IT Market Pioneer Group"
Busan Information Industry Promotion Agency (President Lee In-suk) announced that Busan companies participating in the SW convergence cluster 'Global IT Market Pioneer Group' achieved their desired results in Southeast Asia.
The 'Global IT Market Pioneer Group' is a nationwide software convergence cluster joint project and was held from the 10th to the 17th. 27 excellent companies nationwide, including 6 Busan companies including △Samwoo Immersion, △AI Platform, △UPI Chain, △Interbird, △INFECVISION, and △ProM Technology, participated in the selection.
The pioneering group held export conferences in Malaysia and Indonesia through Taiwan through the KOTRA Trade Center in each country, and among them, the performances of Busan companies stood out.
Six Busan companies prepared effective SW solutions such as △VR/AR-based safety training △iris recognition access control △blockchain service △offshore tide information △parking and road management △employment/recruitment management, etc., and attracted the attention of buyers.
In particular, despite the short schedule, 7 MOUs, 96 consultations, and $44.2 million in consultation amount were achieved, and the possible contract amount reached $15.77 million.
Lee In-suk, director of the Busan Information Industry Promotion Agency, said, "We will do our best to enhance the brand of 'Busan Enterprises' in the global IT industry by helping Busan companies grow and successfully enter overseas markets. We will spare no effort to advance into various countries."
Daehee Kim, CEO of Samwoo Immersion Co., Ltd., who achieved the greatest results with 4 MOUs and 15 export consultations among companies participating in the market development team, said, "We will confirm the interest of buyers in solutions using virtual reality (VR) and augmented reality (AR). "We will continue to grow as a company that looks beyond Korea and the world by using competitive solutions," he said.
In addition, Lee Sang-bong, CEO of ProM Technology (President of Busan Information Technology Association) said, "It was a good opportunity to introduce Busan companies to Taiwan and Southeast Asia, and it was very helpful to have export consultations with high-quality buyers. Through this, we will lay the foundation for overseas expansion and further export results."
Meanwhile, the SW convergence cluster project is a project to strengthen the competitiveness of the industry by convergence of SW with the regional core industry, and is being carried out in 10 regions across the country. The Promotion Agency has been building infrastructure in the Busan area through the SW Convergence Cluster 1.0 project for the past 5 years, and from this year, through the SW Convergence Cluster 2.0 project, the Centum SW Convergence Cluster is being activated and a data-based industrial ecosystem is being built.
By Jung Soon -hyung, senior staff reporter junsh@busan.com
ⓒ Busan Ilbo (www.busan.com), unauthorized reproduction, collection, and redistribution prohibited