[Hankyung Society 20.04.29.] Korea Maritime University, Samwoo Immersion, joint construction of Marine AR/VR Open Lab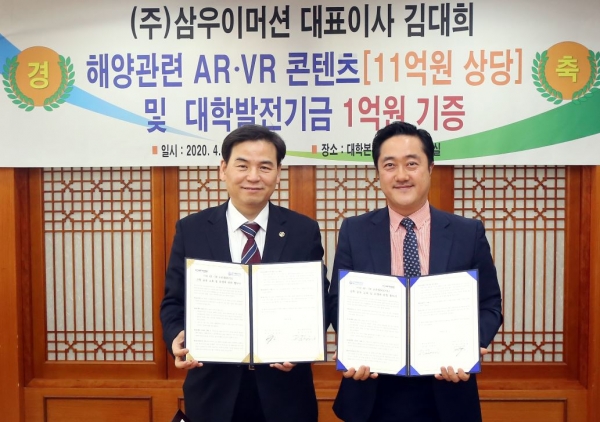 Korea Maritime University President Doh Do-hee (left) and Samwoo Immersion Co., Ltd. CEO Dae-hee Kim. / Source: Professor Shimbun (http://www.kyosu.net)
Korea Maritime University (President Doh Do-hee) announced on the 28th that Samwoo Immersion had donated KRW 100 million to the University Development Fund along with AR/VR content related to the ocean worth KRW 1.1 billion.

Korea Maritime University and Samwoo Immersion established the Marine AR/VR Open Lab and opened the opening ceremony. On the afternoon of the 28th, the University Headquarters 3 signed on the floor.

Dae-hee Kim, CEO of Samwoo Immersion, said, "I am delighted to be donating educational content to my alma mater.

Korea Maritime University President Doh Doe-hee said, "In the era of untact business, realistic feeling is important. Experiments and practice using AR/VR contents will be of great help to students."


A scene of experiencing VR content at the Marine AR/VR Open Lab (MAVOL). / Source: Professor Shimbun (http://www.kyosu.net)
Source: Professor Shimbun (http://www.kyosu.net)