[Hankyung Society 20.05.12.] Samwoo Immersion Exports Marine Safety Education Contents to Sweden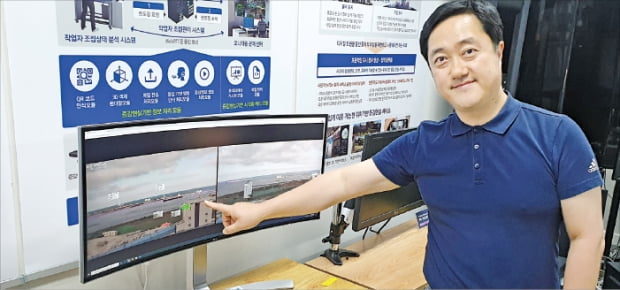 Samwoo Immersion CEO Kim Dae-hee announced on the 12th that it would grow into a world-class ship-related educational content company at the Haeundae headquarters in Busan on the 12th. By Kim Tae-hyun
A marine safety virtual reality (VR) and augmented reality (AR) content developed by a navigator from Korea Maritime University using his field experience was exported to a Swedish tanker company. Samwoo Immersion (CEO Dae-hee Kim, 47), a professional developer of VR/AR solutions based in Haeundae, Busan, announced on the 12th that it has sold 'VR/AR smart glasses (glasses)' to the Swedish tanker company Hunters Group. did. Although the initial volume is worth 100 million won, the company added that additional exports are also being discussed.
This product informs the people working on the ship of the work through the screen. It is a work tool that allows sailors to learn the contents and work process of the ship on land before boarding the ship for the first time. Information between the ship company's head office and the ship is also connected, so that various ship and safety information can be delivered quickly and accurately.
With this first export as an opportunity, Samwoo Immersion entered into export negotiations with Malaysia, Sri Lanka, and Vietnamese shipping companies and port management companies. CEO Kim Dae-hee said, "The education method is changing to a video education method after the novel coronavirus infection (COVID-19) crisis. He said, "You can practice various job training on land, such as how to safely respond in case of fire, how to escape in a lifeboat, how to handle cargo or how to operate engine facilities, etc. It will be of great help to safety and security."
After graduating from the Department of Maritime Transportation Engineering at the Korea Maritime University, CEO Kim established the company in 2011 after riding a ship for 4 years and 6 months as a navigator. In the era of the 4th industrial revolution, combining VR and AR in ship and port fields will have a great effect on job training, and it has succeeded in developing a training solution by applying what she felt from her experience on board. Research personnel account for 75% of the 40 employees, and they are concentrating on improving their technology. Thanks to this, it achieved sales of 2.8 billion won last year and is expecting 6 billion won this year.
CEO Kim is also active in industry-university cooperation with universities. On the 28th of last month, he jointly built a 'Marine VR AR Open Lab' with the Korea Maritime University and started full-fledged activities. This facility is installed inside the Korea Maritime University Maritime College building and is used for major classes and visitor experiences. Not only students but also marine workers who need a place to practice can get job-related experience in the open lab.
Samwoo Immersion also provided marine-related VR/AR contents worth 1.1 billion won. A 100 million won university development fund was also donated. In this facility, you can experience not only the localized ship control simulator, but also the situation of fire response and evacuation through VR. A detailed program was also included so that the marine engine could be seen down to the parts.
CEO Kim said, "It does not end with the completion of the facility, but we are continuously trying to maximize the educational effect by increasing the understanding of the use of contents.
Busan = Correspondent Kim Tae-hyun hyun@hankyung.com