[Electronic Newspaper 20.12.03.] [InSite] Kim Dae-hee, CEO of Samwoo Immersion "Changes the paradigm of field job training with VR/AR technology"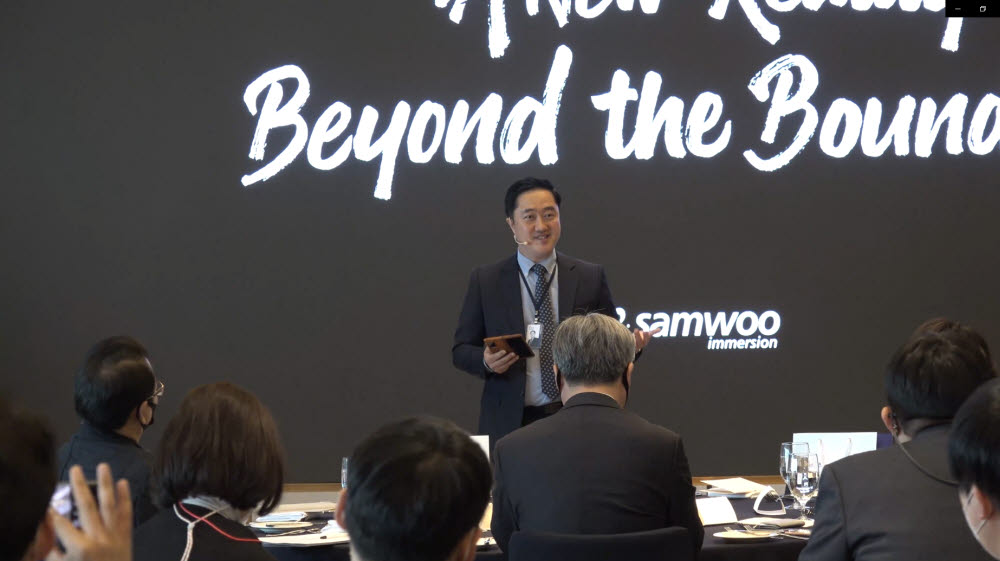 <At the Samwoo Immersion 2020 Smart Work Conference held last month, CEO Dae-hee Kim is introducing the smart work platform function and the mid-to-long term vision of Samwoo Immersion.>
"Virtual reality (VR) and augmented reality (AR) technologies and contents, which were used only in specific fields in the past, are now spreading to all fields of industry. Starting with VR/AR-based job training, Samwoo Immersion offers a new direction for on-site training and building a collaborative environment. The era is coming when VR/AR will replace all work in the industrial field, from education, collaboration, and after-sales service."

Daehee Kim, CEO of Samwoo Immersion, predicted a major change in the industrial education market as well as general education according to the post-corona and with-corona era. Online non-face-to-face is basic, and from hardware and software to various contents and solutions, and changes in perception of existing education, VR/AR is a major social change.

The 'Smart Work Platform', launched by Samwoo Immersion last month, is an industry-specific non-face-to-face remote education and collaboration service developed in response to these changes. It is also the flagship business item for the next generation of Samwoo Immersion.

CEO Kim said, "We provide various VR/AR-based solutions developed and provided by Samwoo Immersion in a cloud environment, and furthermore, we provide remote optimization and support for all existing face-to-face tasks such as remote collaboration, remote job training, and remote AS." explained.
On the 26th, the '2020 Smart Work Conference' was held to introduce the smart work platform and the mid-to-long term vision and goals of the company. He said, "It was the first large-scale event since the company was founded. All the staff carried out the entire process from planning to execution. Although there were many difficulties due to the spread of Corona 19, I thought that it was necessary to properly inform the company of demanding companies and related organizations of the smart work platform launch and the vision of Samwoo Immersion. Internally, we needed an opportunity to take a leap forward."

For the first time as a private company, the establishment of a 'VR AR training center' focusing on professional job training is also being promoted. After signing a memorandum of understanding (MOU) with Korea Maritime University, Lloyd's Register, and shipping and logistics companies, they started developing VR training contents for LNG carriers. CEO Kim said, "There is no standardized curriculum, competency evaluation criteria, or qualification certification for job training and remote collaboration using VR/AR. and standardization."

With the center as a base, it plans to expand the education target and market, starting with the LNG carrier training, which is difficult on-site, to nursing training and elevator management training. While overcoming the insecurity and inefficiency of existing on-site job training, it leads distance education and aims to utilize and spread smart work platforms.

Samwoo Immersion will celebrate its 10th anniversary next year.

CEO Kim said, "I will make a year in which Samwoo Immersion 2.0 is established and realized with the vision of 'to cross borders to a new reality'. "If we have focused on developing new solutions, now we are going to focus on publicizing the developed solutions and expanding the use cases."


Busan = Correspondent Lim Dong-shik dslim@etnews.com