[Korea University Newspaper 21.01.18.] 'Expectation' to lead the revitalization of the western part of the world under the theme of 'realization of a new normal life opened with smart'
'Expectation' to lead the revitalization of the western part of the world under the theme of 'realization of a new normal life opened with smart'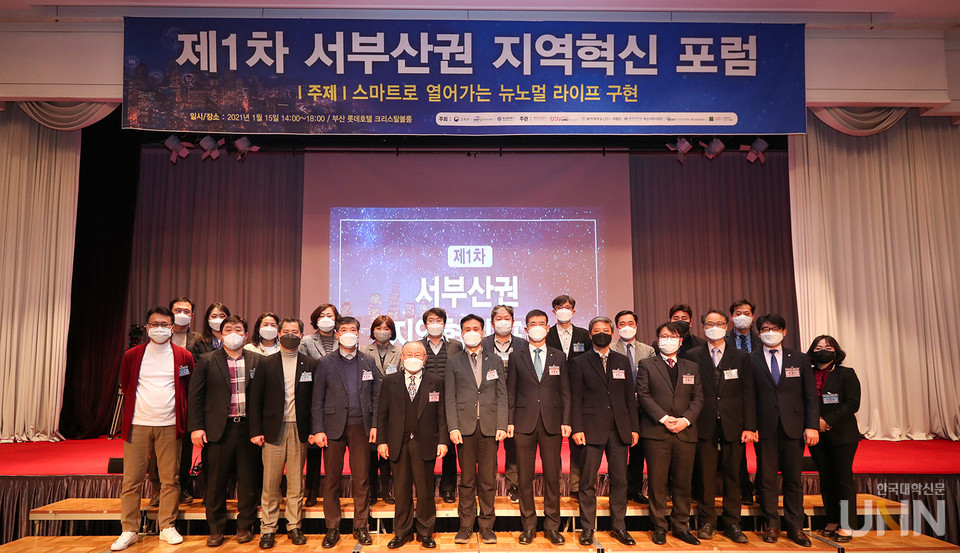 Attendees of the 'The 1st Seobusan Regional Innovation Forum' held at the Lotte Hotel in Busan are taking a commemorative photo. (Photo = provided by Dong-A University)
[Korea University Newspaper Correspondent Lee Won-ji] Dong-a University (President Lee Hae-woo) announced on the 18th that it had successfully held the 'The 1st Western Regional Innovation Forum'.

The forum was held at the Crystal Ballroom of Lotte Hotel in Busan on the afternoon of the 15th with the theme of 'realization of a new normal life opened by smart', co-hosted by the Ministry of Education, the National Research Foundation of Korea, and the city of Busan. The College of Technology and Silla University were jointly hosted by six western universities.

In response to social distancing step 2.5, it was conducted in a hybrid method in which only presenters such as Lee Dong-dae, vice president of Dong-a University, Kim Ki-hwan, director of growth strategy in Busan, and presenters such as Kim Byung-jin, president of the Busan Institute of Industry, Science and Innovation attended the site and broadcast the forum site through real-time online broadcasting. .

The forum started with the keynote lecture on 'Great Transformation and Local Community after COVID-19' by National Assemblyman Jae-ho Song (former Chairman of the National Balanced Development Committee), and divided into a session dealing with 'SMART' and a session dealing with 'New normal'. took place

In the 'Smart' session, Bae Soo-hyeon, a research fellow at the Economic and Industrial Research Department at Busan Research Institute (in the era of digital transformation, how smart changes life and economy) gave a presentation and Kim Jun-su, head of the IT Convergence Headquarters at the Busan Information Industry Promotion Agency (to discuss the direction of smart city project in the western part of Busan) Future tasks) and Kim Chae-yeon, head of the Lifelong Education Center at Pusan National University of Science and Technology (a case of revitalization of commercial districts through smartization of traditional markets), gave case presentations.

The 'New Normal' session was followed by the presentation of the topic by Kim Young-dae, head of the Busan Economic Promotion Agency's Corporate Support Department (What should we do in the new normal era, how to communicate with the local community and win-win?) and case of win-win cooperation) and case presentation by Kyung-hee Kim, head of the Human Resources Development Center at Busan Talent Lifelong Education Promotion Center (Busan-type university-regional win-win cooperation model).

In the general discussion that followed, Kim Byeong-jin, president of the Busan Institute of Industrial Science and Innovation, took the time to discuss 'a plan to establish a cooperative network and revitalize the local community to contribute to the local community in the western part of the region'.

At this meeting, Busan City, local governments, and participating universities agreed to form a forum for discourse on local issues by continuously checking the task of selecting local issues and solving problems for the next year based on the agenda discussed in the current year.
Source: Korea University Newspaper - 'Power' that connects 409 universities (http://news.unn.net)