[Money Today 21.04.06.] Pusan ​​National University Metaverse & Digital Content Concert
On the 8th, Pusan National University Machinery Pavilion, special lecture on Unity, SCK, Samwoo Immersion
Metaverse is a compound word of meta meaning 'transcendence' and universe meaning 'real world'. Various companies such as Google, Facebook, and Naver are preparing for the era of big data metaverse by releasing related services.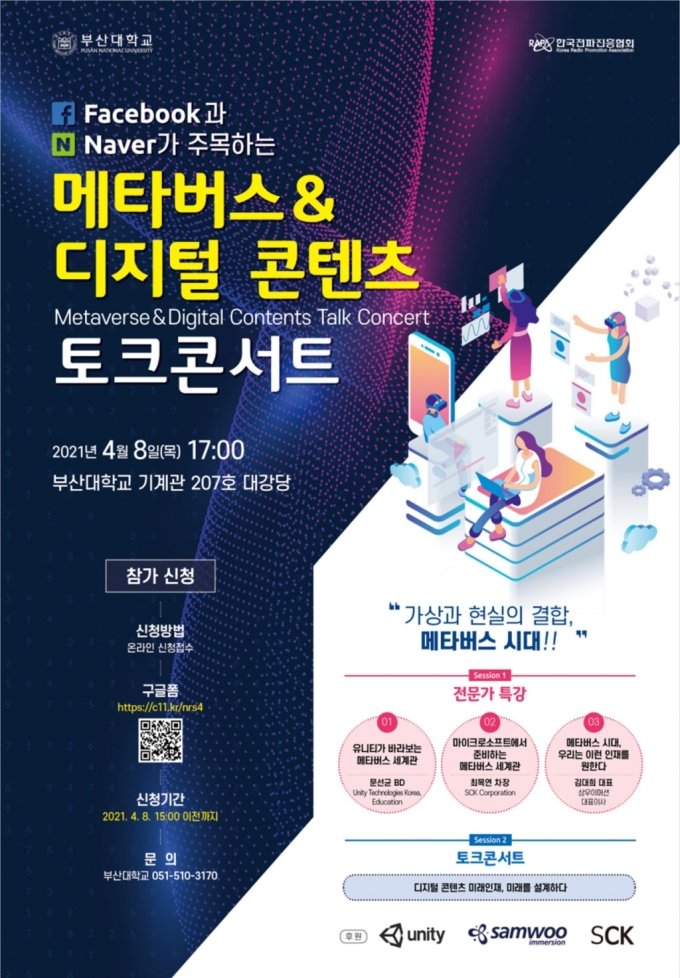 Metaverse & Digital Content Concert Poster./Photo courtesy of Pusan National University
Pusan National University organized this event to help young people understand the latest technological changes and to develop new perceptions about jobs.
The event will consist of three TED-style lecture sessions and an audience participation talk show on metaverse and future talents in digital content.

In Part 1, we plan to invite experts from the field to look into the movement of the industry and look at business changes using core digital technologies in the metaverse era.
Sun-kyun Moon, Manager of Unity Korea, Mok-yeon Choi, Deputy Director of SCK Corporation, and Dae-hee Kim, CEO of Samwoo Immersion, will give special lectures.
In the second part, a talk concert with audience participation will be held under the theme of 'Digital Content Future Talent, Designing the Future'.
The education and training course of the digital content future talent discovery and nurturing project hosted by the Information and Communication Industry Promotion Agency will also be introduced.
Meanwhile, this talk concert is recruiting attendees for job seekers who are interested in future digital technologies related to metaverse. Applications for participation can be made online (c11.kr/nrs4).
<Copyright holder © 'Real-time news that shows money' Money Today, unauthorized reproduction and redistribution prohibited>