[International Newspaper 21.06.10.] 'AI study, it's not difficult' Dong-Eui Science University opens an opening ceremony of 'AI Cafe', an AI experience and learning space
Complex artificial intelligence, easy to access and fun to learn.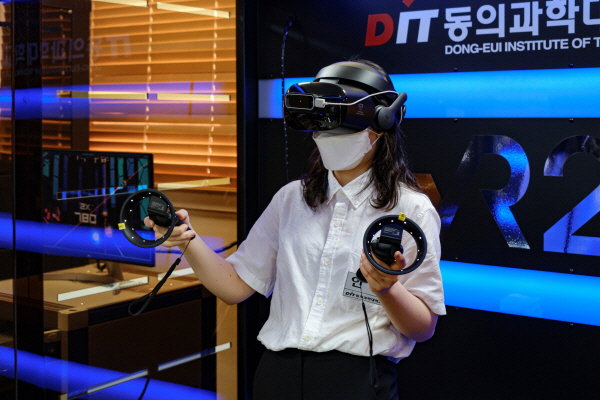 Dong-Eui University of Science and Technology (President Kim Young-do) held the opening ceremony of the 'AI Cafe' at 3 pm on the 4th at the university-industry-academic cooperation building where you can more easily access and experience artificial intelligence, the core of the 4th industry.

The AI Cafe opening ceremony to be held on the 4th was attended by President Kim Young-do of Dong-Eui Science University, Busan Metropolitan City Mayor Park Hyeong-Jun, Busan Metropolitan Office of Education Kim Gwang-Soo Director of Education, Computer Science High School Principal Seung-Ho Son, Busan SW Meister High School Principal Yoon Hye-Jeong, Busan Information Technology Association President Chung Chung-Kyo, ( Korea Artificial Intelligence Association Busan Branch Chairman Shin Hyeong-seop, Korea Industrial Intelligence Association Boolean Branch Chairman Oh Jun-cheol, Small Business Convergence Busan Federation Chairman Kang Kang-soo, Busan Robot Industry Association Executive Director Ryu Hyun-je, Smart Co., Ltd. About 30 people from local, industry, and academia attended, including Kim Hee-dong, CEO of Social, and Kim Dae-hee, CEO of Samwoo Immersion.

The event was held in the following order: Dong-Eui Science University AI Cafe Cutting Ceremony, President Kim Young-do's Greetings, Mayor Park Hyung-Jun's Congratulatory Address, University Facility Tour, 'Open Campus Meeting', and 'Workshop for Revitalizing AI Education in Busan'.

The AI Cafe located on the first floor of the University Industry-University Cooperation Building has a total area of 165 m² (50 pyeong) and is an experiential space where students can access artificial intelligence more easily and in a fun way. It is a learning space where education for each level is carried out.

The AI cafe is composed of an AI zone and a VR zone, where you can experience vision recognition and voice recognition-based AI equipment. In addition to various innovative equipment incorporating AI technologies such as AI autonomous vehicles, AI speakers, and AI drones, automatic identification of people not wearing masks to prevent the spread of COVID-19, which won the grand prize at the national university student hackathon hosted by the Ministry of Science and ICT 'Intelligent System' and other student award-winning works will be exhibited.

In the VR zone, there is a VR-based simulator where you can experience a real disaster site. Students wear VR equipment such as headsets and controllers and experience various disaster environments such as typhoons, earthquakes, fires, and water in virtual reality, and can safely learn and learn how to respond to emergencies and how to act in emergency situations. Currently, there are 10 types of VR contents, and we plan to expand various experiential convergence contents related to departments in the future.

In addition, we operate block coding-based AI coding education so that non-major students can become familiar with AI beyond the limitations of existing lecture-style classes. In addition, the AI cafe will be opened to local elementary, middle and high school students and the general public as well as current students to provide AI experience and coding education to use as a place to promote future education.

After the opening ceremony, 'Open Campus Meeting' and 'Workshop for Revitalizing AI Education in Busan' were held. The open campus meeting was prepared for Mayor Park Hyung-jun to visit the university to communicate with school, students, and business officials, to share industry-university cooperation policies, and to seek sustainable development together. At the workshop, Jeon Mi-soon, manager of Raon People Co., Ltd., gave a special lecture on the topic of 'Artificial Intelligence Education in Industrial Sites'.

President Kim Young-do said, "AI education is now essential in the future like compulsory coding education. We will nurture AI specialists who have developed the ability to solve problems," he said.
By Oh Chan-young, staff reporter chxxyxxng@kookje.co.kr
ⓒKukje Newspaper (www.kookje.co.kr), unauthorized reproduction and redistribution prohibited