[Money Today 17.04.24.] Samwoo Immersion, Small and Medium Business Administration 2017 Designated as 'Technology Specialist (ESP)'
Samwoo Immersion (CEO Dae-hee Kim) announced on the 24th that it was recently selected as an 'Engineering Service Provider' by the Small and Medium Business Administration.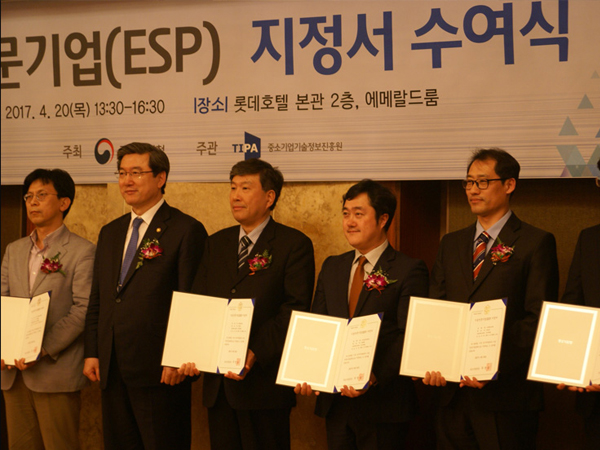 Samwoo Immersion CEO Daehee Kim (third from the left) is taking a commemorative photo at the 'Technology Specialist Company (ESP) Designation Ceremony' held at the Lotte Hotel in Seoul on the 20th. / Photo provided by Samwoo Immersion
The Small and Medium Business Administration comprehensively evaluated the technical professional service capabilities and infrastructure of companies that reported as R&D service businesses in March, and provided a total of 36 projects in △design/analysis △test/analysis △design △R&D (research and development). A technology specialized company (ESP) was selected.

ESP is a company that provides technical professional services to small and medium-sized enterprises (SMEs) with expertise in each technology field, such as design/analysis, test/analysis, etc.

Samwoo Immersion, selected for this ESP, is a company with specialized technology in the maritime field, and has developed a commercial ship control simulator for the first time in the domestic industry. According to the company, 85% of its employees are professional developers. We are researching and developing realistic 3D simulators and experience solutions in the marine field.

Samwoo Immersion supplies its technology to public institutions and companies such as Korea Institute of Oceans and Fisheries and Hyundai Heavy Industries. Currently, he is focusing on building a virtual training system for maritime accidents.

Daehee Kim, CEO of Samwoo Immersion, said, "It was selected as an ESP in recognition of its convergence technology specialized in the maritime sector.
<Copyright holder © 'Real-time news that shows money' Money Today, unauthorized reproduction and redistribution prohibited>
Money Today | SME Cooperation Team Geun-Young Kim | 2017.04.24 17:54