[Korea Daily 18.07.02.] 'Korea Maritime Safety Expo' 4th Fanfare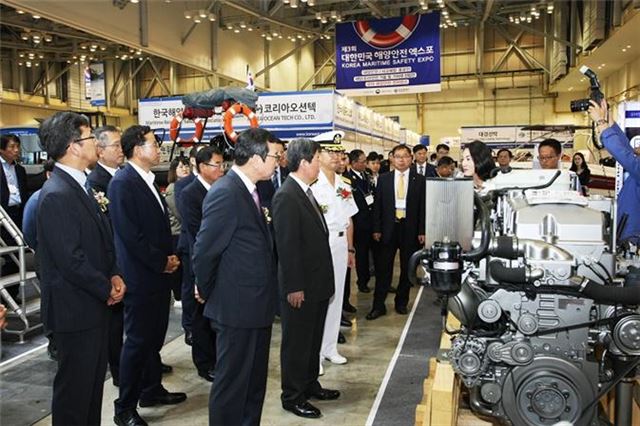 Busan City and the Ministry of Oceans and Fisheries will hold 'The 4th Korea Maritime Safety Expo 2018' at BEXCO from the 4th to the 6th. (Photo) A scene from the 2017 event. Provided by Busan City
Samwoo Immersion Co., Ltd. participates in marine (shipbuilding) safety technology and equipment industry field with 'Marine Safety VR Program'
Busan City announced on the 2nd that it will hold 'The 4th Korea Maritime Safety Expo 2018' at BEXCO from the 4th to the 6th with the Ministry of Oceans and Fisheries.
The Maritime Safety Expo, which has been held since 2015 to spread the maritime safety culture and support industries related to maritime safety, is the 4th this year. About 450 booths from 150 companies are operated.
The main events consist of ○Marine safety and accident prevention publicity exhibition ○Marine (shipbuilding) safety technology and equipment industry exhibition ○International maritime safety conference ○Ancillary events, etc.
First, the 'Marine Safety and Accident Prevention Promotion Exhibition' consists of an exhibition hall that promotes marine safety-related policies and the latest technologies and a special hall for marine safety experience. In particular, in the experience hall, marine safety rules and first aid (rescue) tips are taught, and a more vivid experience program will be provided through the newly established practical program (survival swimming) this year.
In addition, at the 'Marine (shipbuilding) safety technology and equipment industry exhibition', marine safety technology and equipment including marine and ship navigation communication equipment, marine rescue-related equipment and search and rescue equipment, personal safety equipment, security, fire prevention and fire extinguishing equipment, and industrial Safety goods and marine safety-related service items will be exhibited, so you can meet all things about maritime safety in one place. In particular, the latest technologies such as maritime communication technology using 5G technology, search and rescue drones (KT), and maritime safety VR programs (Nova Tech, Samwoo Immersion), HLB, Hyundai Sea's All, Seawolf Marine, Kumyang Tongsan, Air Point You can meet major marine safety companies such as
The 'International Maritime Safety Conference', which will be held together during the Expo, invites domestic and foreign marine safety experts, and is held under the themes of maritime life and property safety vision (day 1) and maritime safety industry vision (day 2). Key speakers: Prof. Eric Hallnagel (Yonkoping University, New Paradigm Resilience Engineering for Maritime Safety), Inmuiri (Strengthening Regional Cooperation with the ReCAAP in Asia), Chairman Lee Yeon-seung (Ship Safety Technology Corporation, 4) Vision and strategy for strengthening the safety management of small and medium-sized ships in the era of the Second Industrial Revolution) was invited.
In addition, the 'Overseas Navy Invitational Export Consultation Conference', where general-level personnel from Thailand, Peru, Myanmar, and Indonesia are invited, and the 'Youth Jobs (recruitment) Hall', where job information and consultations from related organizations are provided to create marine-related jobs; Various incidental events and special pavilions will be prepared, such as the 'Fisher Safety Special Pavilion', which showcases fisherman safety technology and equipment.
On the other hand, you can check detailed information on the official website (www.safetykorea.org) of the Expo, and if you register in advance, you can enter the expo for free without a separate registration procedure.
2018.07 Hankook Ilbo