[Seoul Finance 19.03.11.] Jeju Air, Korea's first in-flight safety training 'VR'
Emergency response ability through training through virtual reality ↑
Jeju Air introduced safety training through VR (virtual reality) in its cabin crew safety education program to enhance emergency response capabilities.
Jeju Air announced on the 11th that it has been conducting training through VR by applying virtual reality technology to the safety training of cabin crew since January.
In the event of turbulence or an emergency landing after wearing the VR device, the training is conducted in the order of emergency evacuation command of the crew, final inspection, securing of items to be carried out, and evacuation of the cabin crew. The training conducted through VR includes regular cabin crew training, initial training, requalification training, and instructor training. VR training is added to the existing safety training to increase the concentration of learning for cabin crew, where field experience is important, and experiential education through interaction It aims to maximize the effect of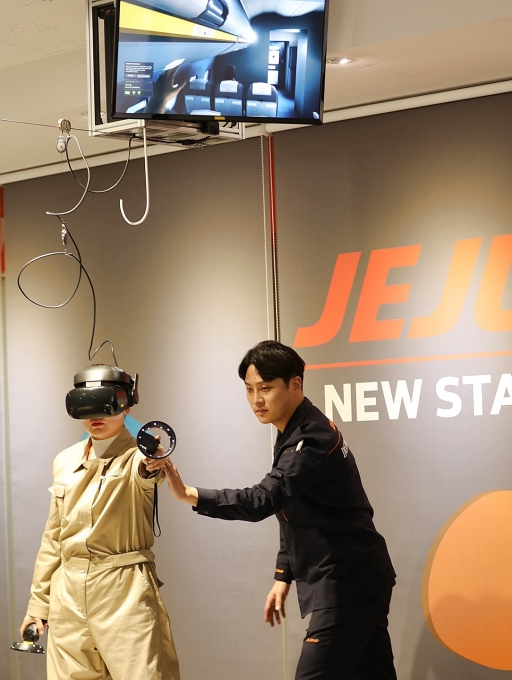 In order to ensure stable operation of the growing fleet and routes and secure consumer trust, Jeju Air selected 'Advancement of the safe operation system' as its top priority, and improved the system and invested in facilities through an external expert diagnosis for safety, security, operation, and maintenance. is expanding The level of the safety management system has been raised through consulting by 'Prism', an overseas specialized organization for safety management quality and procedures. In addition, the simulated flight training, which has been outsourced so far to strengthen pilots' capabilities such as crisis response, is the third among eight national airlines to directly purchase and introduce the training device, and has been conducting in-house training since last month.