Sporone Disaster Safety Experience Center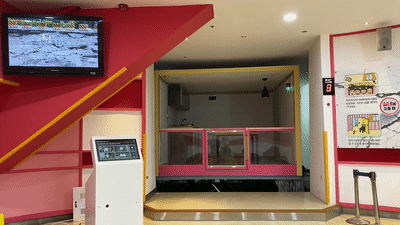 Sporone Disaster Safety Experience Center
Construction example

Create an immersive experience space through appropriate harmony between simulator and media !
Cultivate active and effective coping skills to various disasters!

Seismic wave propagation about the location of the epicenter, its intensity, and the characteristics of the ground by implementing a precise seismic environment like an actual earthquake in order to cultivate active and effective coping abilities for various disasters as a space for citizens' desire for safety education and practical experience A realistic earthquake-generating motion simulator is used to accurately express the real-world earthquake occurrence motion simulator as a vibrating environment, and the earthquake sensation by intensity, delivery time, direction, and vibration for each direction are accurately expressed in the virtual environment of buildings and furniture, etc. We provide immersive education and training by realistically realizing the seismic effect of the external environment. Through Samwoo Imation's content production know-how, we have constructed an immersive experience space through appropriate harmony between the simulator and media, and built an experience facility that can produce various virtual spaces.